Training Camp Preview: NFC East
Wed Jul 22 10:43am ET
By JEFF PAUR
Sr Fantasy Writer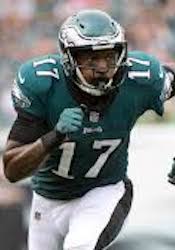 Eagles hope Jeffery is healthy
This is the fifth preview in a series of training camp previews. We will continue to release the previews throughout the week. The previews give you a quick look at each team, going over position battles and injuries to watch in camp. The season is right around the corner.
Eagles
The Eagles had all sorts of injury issues last year, so getting healthy and staying healthy will be a big key to their season. This might be the biggest thing to watch during camp this year after last season. Their key players, especially at the receiver position, need to stay on the field for Philadelphia to find success on the field. The Eagles train at the NovaCare Complex in Philadelphia.
Position battle: Alshon Jeffery is the No. 1 receiver for the Eagles but after him, there are some openings for the Eagles. Veteran DeSean Jackson seems likely to start but he won't be handed the job at this stage of his career, especially after his off the field comments that got him in some hot water. The Eagles also have rookie Jalen Reagor looking for a big role in the offense. Marquise Goodwin and JJ Arcega-Whiteside also are in the mix for playing time at receiver for the Eagles.
Injury watch: Alshon Jeffery is recovering from a Lisfranc injury and is iffy for the start of camp. He might not even be ready for the start of the season. We'll get a better idea of his status after watching him in camp, though. If healthy, Jeffery is the No. 1 receiver in this offense. He needs to get over his injury issues, though, and stay on the field.
Giants
The Giants continue to be in rebuild mode. New York is getting closer to competing for a playoff spot, though. The big thing to watch is the development of their young talent, especially quarterback Daniel Jones. If the Giants hope to win more games, Jones will need to take more steps forward this year. Jones and the rest of his teammates train at the Quest Diagnostics Training Center in East Rutherford, New Jersey.
Position battle: It will be interesting to see if Darius Slayton can grab one of the starter spots for the Giants this year. He had a great showing when getting a chance to start late last year and could force his way into the starting lineup. Golden Tate and Sterling Shepard are atop the depth chart at receiver right now, but that might change if Slayton continues to emerge. He has a chance to lead the Giants in targets, especially if he is starting.
Injury watch: Evan Engram was on his way to a big season last year before injury hit. He needed Lisfranc surgery this offseason to repair his foot injury. He is trending towards being ready for the start of camp, though. He might be brought along slowly, but Engram is expected to be near 100 percent for the start of the season. You'll want to keep an eye on his progress in camp, though, to be sure.
Cowboys
Dallas has a lot of high expectations once again this year. The team disappointed last year, leading to a coaching change. So much of this camp might be focused on Mike McCarthy, seeing how he can bring together the team. McCarthy will have a lot of pressure on him to succeed, but certainly has the track record for hope in Dallas. The Cowboys train at the Ford Center at The Star in Frisco, Texans.
Position battle: We should have a battle on our hands for the No. 2 receiver spot in Dallas. Michael Gallup made big progress last year, hitting the 1,000-yard mark for the first time in his career. The Cowboys took CeeDee Lamb in the first round of this year's draft, though. Lamb was considered the top receiver in this class by man, so he should challenge Gallup for the right to start in Dallas. Both players will play regardless this year, but the starter will hold a little more fantasy value, making this is a position battle to monitor.
Injury watch: Ezekiel Elliott is one of the players that tested positive for coronavirus this offseason. It was just a few weeks back, so his status is a little uncertain as camp opens. He should be ready to go, but you have to wonder if this illness will have any longterm impacts on him. We should see if he is back to full strength early in camp, though. Hopefully, all is well with Elliott going forward.
Redskins
The Redskins made another coaching change this offseason, making Ron Rivera their head coach. Washington is in rebuild mode but getting veteran coach like Rivera to run the show might accelerate the process. Rivera is a no nonsense coach that should bring some structure to the team. Getting up to speed with the new coach might be biggest thing to watch this training camp. Washington holds trading camp at the Bon Secours Washington Redskins Training Center in Richmond, Virginia.
Position battle: The Redskins have veteran Adrian Peterson and Derrius Guice battling it out for the right to start at running back. Guice has a lot more upside of the two but can't stay healthy. He will need to prove he can handle the load in camp and preseason action if he hopes to hold off Peterson, who just keeps chugging along. Peterson got to start much of last season because of Guice getting injured and topped 1,000 total yards for the second straight season. He as produced well for the Redskins when given the chance.
Injury watch: Derrius Guice has played just five games in his NFL career. If healthy, he has a chance to be the starter for the Redskins. But that is a big "if" considering his injury history to start his career. Guice has a ton of talent but staying on the field is a big concern for him. A good camp and preseason could go a long way in easing fantasy owners minds a little.
Jeff Paur is a two-time finalist for FSWA Fantasy Football Writer of the Year and won the FSWA award for Best Fantasy Football Article on the Web in 2011. He also was the most accurate expert in 2012, winning the FSTA Fantasy Football Accuracy Award. If you have any questions for Jeff, email him at jeff@rtsports.com. Follow Jeff on Twitter @jeffpaur.