Leonard Fournette Fallout
Mon Aug 31 11:41am ET
By JEFF PAUR
Sr Fantasy Writer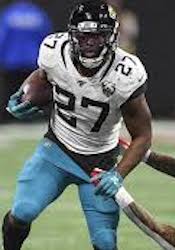 Fournette is released by Jags
The release of Leonard Fournette was a bit of a surprise, but not a shock. The Jaguars have been trying to deal their starting back for some time. Jacksonville obviously was over Fournette, looking to move in another direction at the position. Well, that is official now with the team releasing him. Let's take a closer look at the fallout from this one move.

First, we will see what it means for Fournette. He should have some real interest. He might not be an elite back but is a former 1,000-yard rusher with some legit talent. The Bucs seems the best fantasy fit for him, getting a chance to play in a top offense. New England wouldn't be a bad fit, but he would have more to compete with for touches. Washington is another team that might have an opening for their starting position. Those three teams might be the best spots for him when it comes to fantasy value.
Other teams that could try to get Fournette are the Bears, Eagles, Rams and Jets. The teams just mentioned would not be ideal fits from a fantasy perspective, though, having a less clear path to touches. All could cause some fantasy headaches if Fournette were to sign with any of those teams.
But either way, keep an eye on this situation going forward. Fournette probably had his most value with the Jags, but he can still help fantasy teams going forward, especially if he lands with the right team. Just don't expect him to reach his numbers of past years as the starting back for the Jaguars.
The Jaguars are likely to go with a combo of Ryquell Armstead and Chris Thompson at running back. Armstead should start and get most of the carries while Thompson serves as the pass-catching back. Right now, we have Armstead ranked 31st in our running back rankings. Don't overvalue him just because he is starting. He has some yardage and touchdown potential but his receptions should be limited, which is going to hurt his value. He can get around 1,000 or 1,100 total yards in a starting role, though, and near double-digit scores in this offense. He'll get his weekly work.

Thompson might be the more intriguing fantasy option of the two, mainly because his price tag likely won't be as high. He is an injury risk based on the past few seasons, but his ability to catch the ball gives him a fairly high ceiling. Thompson has 40-plus receptions three of the past four seasons. And remember, he missed 11 games the past two years because of injury and still posted those numbers. He also has Jay Gruden calling plays for him, a coach that utilized him often in Washington.
For the price tag, Thompson might be the better fantasy pickup of the two. You can likely get him as a No. 4 or 5 back while Armstead might need to be selected as a low-end No. 2 or top No. 3 back. Just something to consider come draft day.
Jeff Paur is a two-time finalist for FSWA Fantasy Football Writer of the Year and won the FSWA award for Best Fantasy Football Article on the Web in 2011. He also was the most accurate expert in 2012, winning the FSTA Fantasy Football Accuracy Award. If you have any questions for Jeff, email him at jeff@rtsports.com. Follow Jeff on Twitter @jeffpaur.