Lineup Prep: Week 1
Wed Sep 9 10:19am ET
By JEFF PAUR
Sr Fantasy Writer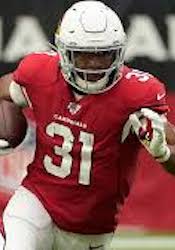 Johnson could get a workout
I know I say the same thing every year but after the draft, this is the best week to be a fantasy football owner. We are all 0-0 and ready to put our hard work to use towards a championship. Will our targets shine in Week 1? How will all our sleepers do in the opener? Are our early-round picks going to live up to expectations? It is just a week of action, but we will have a better idea of all these questions and more after Week 1, especially this year after not seeing any preseason football. I'm not sure I have ever been more excited for Week 1 of the NFL season. Here is to hoping all your hard work paid off to success. This is a great time of the year. Enjoy.
Here are my random thoughts for the week. . . .

I'm really eager to see the level of play in Week 1. How sloppy will teams be? You have to expect some rust, especially with teams not having a preseason schedule. But maybe teams will surprise us and play a little cleaner football then expected. It would not surprise me to see some low-scoring games early in the season, though. Offenses might take a little longer to get on the same page, especially the teams having new players at key positions and new coaching staffs.

I also want to keep a close eye on rookies, especially the running backs. There are a lot of rookies back that have a chance to play big roles this year. It will be interesting to see how they are used. There are some questions marks surrounding many of the rookie backs, making it tough for fantasy owners. Maybe the first week of the season will give us a little better idea on how much some of these rookie backs will be used this year.

The Bengals are one team I'm excited to watch. I think their new head coach, Zac Taylor, is a very good offensive mind. And Joe Burrow has a chance to be special at the quarterback spot. You also have a talented group of receivers in Cincy as well as an elite back. This offense could surprise people this year if Burrow progresses quickly.

There are several second-year receivers I'm expecting big things from. Leading the way are A.J. Brown, D.K. Metcalf and Terry McLaurin. These guys are all capable of being top-10 fantasy receivers this season. I have several shares of all of these receivers. Metcalf intrigues me the most of the group. He is just such a freak athlete that I think he can be the next big thing in the NFL. These guys should be a lot of fun to watch this season.

I'm wondering what David Johnson has left in the tank. If he has anything, I think he can have a big season in Houston. Remember, Carlos Hyde hit the 1,000-yard mark in this offense last season. Houston ran the ball the ninth most of any team last year and have run the fifth most the last three seasons. This is a team that likes to establish the run, so Johnson can get a lot of chances if he is healthy and running well.

Daniel Jones can take another step forward in year two. I think he can be a top-10 fantasy quarterback. He had 26 total touchdowns to 12 interceptions in 13 games as a rookie. And he did this with a banged up receiver group. His receivers and tight ends are healthy this year, which should make things even better for Jones. He can be a solid every-week starter for fantasy teams.

The Browns had a ton of hype last year but are getting next to none for this coming year. It is probably rightfully so, but could be a good thing for the team. They will be under less pressure. Cleveland will be a team to watch, especially if you consider the talent on the team. They have a lot of possible top fantasy players. Baker Mayfield is the key to the offense, though. Mayfield will need to play much better than last season. If that happens, this team could be a scary weekly matchup for opposing defenses. Nick Chubb, Kareem Hunt, Odell Beckham, Jarvis Landry and Austin Hooper are all guys capable of posting big fantasy numbers. These guys need better quarterback play to make that happen. Maybe lower expectations for the team and a new coaching staff will help Mayfield take his game to a new level.
I'm looking forward to Teddy Bridgewater in a full-time starting role once again. This guy has endured so much throughout his career and now gets to start once again. He isn't getting much fantasy love, but I think he has some potential. There are a ton of weapons in Carolina, so I wouldn't be surprised if he has some big games along the way this year. I don't quite get all the fantasy experts downgrading Panthers because Bridgewater is the starter now. Is he really a worse option than Kyle Allen last year? I don't think so. He can help the offensive players in Carolina get better from last season. It will be good to see Bridgewater getting a chance once again.

Don't forget to check out my weekly rankings here: Week 1 rankings.
News and Notes: The Browns signed running back Kareem Hunt to a two-year, $13.25 million extension on Tuesday. Hunt will continue to serve as great insurance for starter Nick Chubb and play a big role in the Browns. . . . . .Washington released their first depth chart and J.D. McKissic was listed as the starting running back for the team. Peyton Barber and rookie Antonio Gibson both figure to play a big role in the running game, but it seems McKissic is the No. 1 for now. . . . . .The Bears placed kicker Eddy Pineiro on Injured Reserve receiver because of a groin injury. Cairo Santos is now expected to be the starting kicker in Week 1 for the Bears.
HOT PLAYS
Hayden Hurst, TE, Falcons. Hurst finally gets his chance to be a No. 1 tight end, landing with the Falcons to take over for Austin Hooper. Hurst seems a good fit for the offense and an ideal replacement for Hooper. Hurst gets a great matchup to open his season, playing the Seahawks. Seattle really struggled to stop the tight end last year, allowing the second most fantasy points to tight ends.
David Johnson, RB, Texans. Houston won their regular season matchup with the Chiefs last year, mainly because of a huge showing by Carlos Hyde. The Texans rushing attack produced big, keeping the Chiefs high-powered offense off the field. Expect the Texans to go with a similar approach this year but with Johnson this time. Johnson should get a workout running and catching the ball, giving him good potential for the big game.
Tom Brady, QB, Bucs. Brady in a Bucs uniform is going to be weird to see, but certainly brings high expectations for the coming season. He should try to start his season with the bang against the Saints in what should be a high-scoring game. Look for Brady to get many chances to air it out to all his top weapons in the passing game. And this should be a good thing because the Saints allowed the 12th most fantasy points to quarterbacks last season.
Emmanuel Sanders, WR, Saints. Sanders gets a chance to play in a high-powered passing game for the first time in several seasons. A move to New Orleans should be a good one for him, getting a chance to start alongside Michael Thomas. Plus, he has Drew Brees throwing him passes. Sanders might be a little hit or miss throughout the season but certainly has the potential for the huge game. And this week against the Bucs is a chance for one of those big games. Tampa was a mess stopping the pass last season, allowing the most fantasy points to receivers.
Mark Ingram, RB, Ravens. Despite the Ravens drafting J.K. Dobbins, Ingram remains the starter at running back….for now. But as long as he is starting, Ingram has good fantasy value in this explosive rushing attack. Ingram plays the Browns this week, a team that allowed the ninth most fantasy points to running backs. Ingram averaged 6.3 yards per carry in two games against the Browns last season. He should be considered a rock solid No. 2 fantasy back in this matchup.
COLD PLAYS
DeVante Parker, WR, Dolphins. Parker had a breakout season last year, emerging as the No. 1 receiver for the Dolphins after a few disappointing seasons. He will be the top target from day one this year. Parker has a really tough matchup to open his season, though, playing the Patriots. New England does a good job of taking away the opposition's best offensive player, so look for them to key on stopping Parker. This isn't good news for Parker, who did not have a reception on seven targets in his first meeting with the Patriots last year.
LeVeon Bell, RB, Jets. Bell hasn't had the best offseason. His coach seems to be doing everything he can to downplay him at every turn. He is even losing some touches in practice to Frank Gore. But Bell remains the starter and should get plenty of weekly touches. He still is a fantasy relevant player but could have some poor showings from time to time. This week against the Bills is one of those games he could disappoint. Bell had 101-rushing yards in two games against the Bills last season.

Aaron Rodgers, QB, Packers. The Packers did little to help Rodgers this offseason, failing to add much needed talent to their receiver corps. Rodgers still has some upside because he can produce the huge game because of his talent, but he isn't the same fantasy player as past seasons. He belongs on the bench in tough matchups. And this week against the Vikings isn't a great matchup for him. Rodgers averaged 213-passing yards in two games against Minnesota last year and scored three touchdowns. He should be ho hum in this Week 1 matchup.

Marvin Jones, WR, Lions. Jones is healthy and should play a big role in the offense once again. He is setup for a rebound season and might have gone underdrafted in fantasy leagues. But even with that said, he probably isn't a must start every week. He could struggle some weeks. Jones could have one of those down weeks to open the season against the Bears. Chicago held him to eight receptions for 117 yards in two games last year and allowed the third fewest fantasy points to receivers. You might want to leave Jones on your bench in Week 1.

Latavius Murray, RB, Saints. Murray had a solid season last year, his first with the Saints. He had some big games filling in for Alvin Kamara and played well even when Kamara was healthy. Murray will have a weekly role with the Saints as the top backup for the team. Murray is only a matchup play, though. And this week isn't a good matchup against the Bucs. Tampa really struggles to stop the pass, but do well against the run. The Bucs allowed the second fewest fantasy points to running backs last year. This isn't a week to put Murray in your lineup.
SLEEPERS
CeeDee Lamb, WR, Cowboys. The Cowboys have a ton of talent this year with Lamb, Michael Gallup and Amari Cooper manning the receiver position. Lamb might be a little up and down as a rookie because of all the talent offensively but he is going to go off some weeks. This week might be one of those weeks. You can expect Rams shutdown corner Jalen Ramsey to cover Cooper, leaving Lamb and Gallup with favorable matchups. Lamb has a chance to make a big splash in Week 1.
Gardner Minshew, QB, Jaguars. The Jaguars rushing game is a big question mark after the release of Leonard Fournette and Ryquell Armstead landing on the COVID-19 list. This means Minshew and the Jaguars passing game should get a workout, especially this week against the Colts. Indianapolis has a solid defense but has some issues stopping the pass. The Colts allowed the 11th most fantasy points to quarterbacks last season. Minshew could have one of his big games in this one.
Steven Sims, WR, Washington. Sims is setup for a big role in the Washington offense this year. He is looking to build on his great finish to last year, having at least four receptions each of his last four games. Sims had 20 receptions his last four games. He should get a workout out of the slot this year, giving him good PPR potential. Things look good for him in Week 1, getting an Eagles defense that allowed the fourth most fantasy points to receivers last year.

Kerryon Johnson, RB, Lions. The Lions drafted DeAndre Swift and recently signed Adrian Peterson, clouding the value of Johnson going forward. The good news for Johnson right now is Swift has been banged up in camp and not gotten a ton of reps. And Peterson was just signed, so the chances of him making a big impact early in the year seem slim. This means Johnson might get a little more work as the lead back early in the season for the Lions. This is great news for his Week 1 value, playing the Bears. Chicago is solid against the pass but just so-so against the rush, allowing the 16th most fantasy points to running backs last year.
Anthony Miller, WR, Bears. Miller has been raved about in training camp. Reports are he has taken a huge step forward and is ready for a breakout season. There is concern that Mitchell Trubisky is starting for the Bears, but even with that said, Miller has some real potential for the coming year. He is a very talented player. Miller gets a chance to start this season with the bang, playing the Lions. Detroit allowed the second most fantasy points to receivers last season.

High/Low Scoring Games
Each week we will take a look at some of the high and low scoring games for the coming week. In high scoring affairs, get your marginal players on those teams in your lineup to take advantage of the possible points barrage. And in the low scoring games, keep those marginal players on the bench and make sure to have your defenses involved in those contests.
High Scoring Games: Texans/Chiefs, Seahawks/Falcons, Cardinals/49ers, Bucs/Saints.
Low Scoring Games: Eagles/Redskins, Dolphins/Patriots, Titans/Broncos.
Jeff Paur is a two-time finalist for FSWA Fantasy Football Writer of the Year and won the FSWA award for Best Fantasy Football Article on the Web in 2011. He also was the most accurate expert in 2012, winning the FSTA Fantasy Football Accuracy Award. If you have any questions for Jeff, email him at jeff@rtsports.com. Follow Jeff on Twitter @jeffpaur.