Lineup Prep: Week 11
Wed Nov 18 10:13am ET
By JEFF PAUR
Sr Fantasy Writer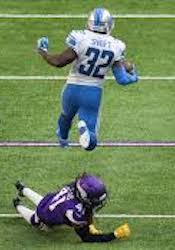 Swift can keep it going Week 11
It is hard to believe, but we are already in Week 11 of the fantasy season. At this point, you are either in it, have a chance to make it, or on the outside looking in. Hopefully, you are on the right side of things when it comes to making the playoffs. All hope isn't lost, though, if you are a game or two out of the playoffs. There are a few weeks to make it up, but all the games going forward become so important for those teams. You can't have any missteps. Do your homework. Keep an eye on the weather. Examine the matchups. Put the best lineup out there each week and hope for the best.
Now for my random thoughts for the week. . . . .
I'm 99.9 percent sure the Lions don't read this column, but if they do, thanks for taking my advice last week and making D'Andre Swift the featured back in the offense. I lamented about his lack of use last week but that wasn't the case in the Week 10 game. He got the most work of the season and seems setup for a huge finish to his rookie season. I think he could be one of the biggest fantasy difference makers down the stretch, especially if he keeps getting so much work in the passing game.
The return of Alex Smith is just remarkable. I would have never thought he would play football again after his devastating injury. But not only is he playing, but he is making plays for the offense. He almost threw for 400 yards last week and is taking care of the football better than his first few times out. I really think Smith might be worth a look for fantasy teams in the right matchup. Washington is not very good and could be playing from behind often, meaning Smith should get plenty of chances to air it out. He could have a few big games the rest of the way.
I could not be more frustrated with the tight end position. It just a mess if you don't own Travis Kelce or Darren Waller. I mean Jonnu Smith is fourth in fantasy tight end scoring and has fewer than double-digit points four of five games. Smith does not have more than 40 yards in a game since Week 3. And this guy is fourth overall in fantasy tight end scoring. Wow. I really thought several players would take big leaps forward this year and help fantasy teams, but that hasn't been the case. Kelce is averaging more than seven points per game than the third rated tight end (T.J. Hockenson). Needless to say, having Kelce on your roster has been a huge bonus for fantasy teams this year.
The Kyler Murray throw to end the game last week was a fitting exclamation mark for his season. That was an unbelievable play, rolling out away from the pass rush and launching the ball into the end zone on the run. And the catch from DeAndre Hopkins also was spectacular. But that special throw from Murray showed he is the best fantasy quarterback in the game right now. Murray has topped 30 fantasy points five straight games. He is averaging 33.2 fantasy points per game. Lamar Jackson had a season for the ages last year and averaged 28.6 fantasy points per game. I think that really puts into perspective the type of season Murray is having right now.
The rookie receiver class is shaping up to be one of the best in years. There are several players that are already emerging and making a big fantasy impact. Justin Jefferson, Chase Claypool and Tee Higgins are all top 20 fantasy receivers right now. And CeeDee Lamb, Brandon Aiyuk, Michael Pittman, Denzel Mims and Jerry Jeudy are producing and capable of big things any given week. We know this receiver class but was pretty good but these early numbers are likely outpacing what many thought. These receivers are set to make a fantasy impact for years to come.
It was a risk taking Ronald Jones in your draft this year, especially after the team signed Leonard Fournette, but all those fantasy owners that drafted Jones are sure sitting pretty right about now. Jones is 12th overall in fantasy running back scoring and has 100-yard games four of seven games. And I don't think this is a fluke for Jones. He is a tough runner, leading all of football in yards after contact. Jones averages 3.2 yards per carry after contact, which is first overall in all of football. If Jones can get his fumbling issues under control, he could be a top fantasy back the next several seasons.
News and Notes: The Dolphins released running back Jordan Howard on Monday. He might have a hard time finding work after doing little with Miami this year.
HOT PLAYS
Ben Roethlisberger, QB, Steelers. Roethlisberger had his best game of the season last week, throwing four touchdown passes. He had more than 30 fantasy points. He has two straight games with three-plus touchdowns. Roethlisberger is sixth overall in fantasy quarterback scoring his last three games. He has a matchup to keep up his success, playing the Jaguars. Jacksonville allows the third most fantasy points to quarterbacks and rank 30th overall against the pass, allowing 284-passing yards per game.
D'Andre Swift, RB, Lions. Swift finally found his way into the starting lineup last week and had one of this best games of the season, scoring 25.9 fantasy points. He had 149 total yards and a touchdown. He had season highs in receptions (five) and receiving yards (68), which was really encouraging for his fantasy value. Swift has 12-plus fantasy points five of six games. He should continue his good play this week against the Panthers. Carolina struggles against the run, allowing the fourth most fantasy points to running backs. Swift has a chance to be a huge fantasy factor down the stretch.
Mike Davis, RB, Panthers. Davis will get another start this week because of the injury to Christian McCaffrey. He wasn't great last week in a starting role, having just 44 total yards. He did have four receptions, though, giving him at least four catches three of four games. His consistent work in the passing game is a huge plus for his fantasy value. Davis should get his catches again this week but could do even better on the ground. He gets a Lions team that allows 142-rushing yards per game. Detroit allows the most fantasy points to running backs.
Justin Jefferson, WR, Vikings. Jefferson is quickly emerging as the go-to receiver in the Vikings passing game, passing up Adam Thielen. He had another 100-yard game last week and was targeted 10 times in the game. He has four 100-yard games this year and three games with 20-plus fantasy points. Jefferson is a must start, especially this week against the Cowboys. Dallas has been a mess defensively, especially against the pass. The Cowboys allow the fifth most fantasy points to receivers.
Jerry Jeudy, WR, Broncos. It has taken some time but Jeudy is finally emerging for the Broncos. He has double-digit fantasy points three straight games and at least 68 yards all three of those games. And he has been targeted at least eight times those three games. He is getting a lot more looks, having 15 receptions his last three games. Jeudy plays the Dolphins, a team that allows the 14th most fantasy points to receivers.
COLD PLAYS
Tom Brady, QB, Bucs. Brady had four-touchdown game last week, giving him four scores two of four games. He is having a fine first season with the Bucs but hasn't been without some poor showings. He has four games with fewer than 17 fantasy points. He isn't quite a sure thing, especially this week against a good Rams pass defense. The Rams allow the second fewest fantasy points to quarterbacks and rank second overall against the pass. You might want to go with other options at quarterback this week.
Marquez Valdes-Scantling, WR, Packers. He had his best game of the seasons last week, catching four passes for 149 yards and a touchdown. Valdes-Scantling has touchdowns two straight and at least 19 fantasy points in each of those games. Allen Lazard has a good chance to return this week, though, which will cut into Valdes-Scantling's playing time and targets. Plus, he plays the Colts, a team first overall against the pass and allowing seventh fewest fantasy points to receivers. It would not be a surprise to see him come back down to earth this week after two strong games. Remember, he has not had more than four receptions in any game this season.
Toddy Gurley, RB, Falcons. Gurley has been finding the end zone on a regular basis, making him a solid weekly fantasy start. He has scores three straight and all but two games this year. He is a little touchdown dependent, though, because he isn't doing much on the ground. He has fewer than 65-rushing yards four straight games despite having at least 18 carries all of those games. Gurley plays the Saints, a team that has allowed just five rushing touchdowns all year and rank second overall against the run. Gurley might struggle some in this one.
TY Hilton, WR, Colts. Hilton returned from his groin injury last week and had four receptions for 40 yards on five targets. His numbers were very similar to what he has done all year. Hilton has more than 50 yard just two times and his season high in yards is 69. He really isn't a viable fantasy option right now, especially with rookie Michael Pittman emerging as a top target in the passing game. Hilton should have another ho-hum showing against the Packers, a team that allows the eighth fewest fantasy points to receivers.
Gio Bernard, RB, Bengals. Bernard got another start last week but disappointed, scoring just 8.7 fantasy points. He had 47 total yards on 12 touches. He is lined up for another start this week with Joe Mixon hurting. This doesn't mean he should be in your lineup, though. Bernard has another unfavorable matchup, playing a good Washington rush defense. Washington allows the ninth fewest fantasy points to running backs. Bernard might be worth a look as a low-end flex play but that is about it
SLEEPERS
Jameis Winston, QB, Saints. Winston is going to get his chance to start once again because of the injury to Drew Brees. Remember, Winston was third overall in fantasy quarterback scoring last year. He has the potential to post big fantasy numbers. The Saints offense isn't quite as explosive in the passing game as the Bucs, but that doesn't mean Winston can't make some big plays with his top weapons. Winston plays the Falcons, a team he scored five touchdowns against in two games last season. Atlanta allows the most fantasy points to quarterbacks.
Joe Burrow, QB, Bengals. Burrow is having a solid rookie season, posting consistent numbers from day one in a pass-first Bengals offense. Burrow is seventh overall in fantasy quarterback scoring his last three games. He has seven touchdowns to just one interception his last three games. He also has five 300-yard games this season. Burrow gets Washington in Week 11, a team that is first overall against the pass but allowed 14-passing touchdowns this season. Don't be scared off using Burrow because of what looks like an unfavorable matchup on paper. Burrow can still produce.
Logan Thomas, TE, Washington. The tight end position is a mess but Thomas has been a bright spot. He is third overall in fantasy tight end scoring his last three games. He has at least three receptions four straight and 60-plus yards two of those games. He also has touchdowns two of four games. He gets his weekly work in Washington's offense and should get a workout again this week against the Bengals. Cincinnati has struggled to stop the tight end, allowing the second most fantasy points to tight ends.
Kallen Ballage, RB, Chargers. Ballage has been the top back in the Chargers offense the last two weeks. He has emerged as the top back because of injury and is lined up for another start this week. Ballage has 15-plus fantasy points two straight games and 80-plus total yards each of those games. He is a low-end No. 2 back or flex option as long as he is starting for the Chargers. Ballage plays the Jets, a team that allows the seventh most fantasy points to running backs.
Jakobi Meyers, WR, Patriots. Meyers has been one of the few bright spots for the Patriots. He is seventh overall in fantasy receiver scoring his last three games. He has at least four receptions four straight games. He even had five receptions for 59 yards on seven targets last week in very poor conditions against a good Ravens defense. Meyers can improve on those numbers this week against the Texans, a team that allows the 12th most fantasy points to receivers.
High/Low Scoring Games
Each week we will take a look at some of the high and low scoring games for the coming week. In high scoring affairs, get your marginal players on those teams in your lineup to take advantage of the possible points barrage. And in the low scoring games, keep those marginal players on the bench and make sure to have your defenses involved in those contests.
High Scoring Games: Cardinals/Seahawks, Falcons/Saints, Lions/Panthers, Chiefs/Raiders.
Low Scoring Games: Eagles/Browns, Dolphins/Broncos.
Bye Weeks: Bills, Bears, Giants, 49ers.
Jeff Paur is a two-time finalist for FSWA Fantasy Football Writer of the Year and won the FSWA award for Best Fantasy Football Article on the Web in 2011. He also was the most accurate expert in 2012, winning the FSTA Fantasy Football Accuracy Award. If you have any questions for Jeff, email him at jeff@rtsports.com. Follow Jeff on Twitter @jeffpaur.