Lineup Prep: Week 13
Wed Dec 2 11:44am ET
By JEFF PAUR
Sr Fantasy Writer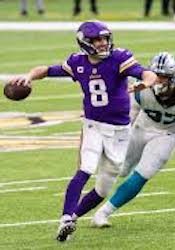 Cousins can produce big again
This is the first time I can remember ever releasing this column before the previous week is officially over. But this is the craziness of the NFL this season. Nothing should surprise you. This might be the case the rest of the season with COVID raging across the country. Just be prepared for the unexpected the rest of the season. You never know what is going to happen.
Now for my random thoughts for the week. . . . .
Chris Carson is another example of a player returning from injury and looking strong. I mentioned this in a previous column, but sometimes injuries can have a silver lining. A lot of players are returning for the stretch run and look healthy and strong. A little time off can do a player some good in the NFL. Guys get really beat up throughout the season, so missing a few games isn't always the worst thing in the world. These guys can return better than before and produce big down the stretch. Hopefully, Carson is another example of this.
You have to worry about Kyler Murray just a little. His play has regressed some in recent weeks. You have to wonder if all the tape from him early in the season is helping defenses game plan against him. He also is beat up, battling an arm injury. All of this could lead to more erratic play the rest of the way, which is a shame because Murray had one of the best fantasy starts in recent memory. Hopefully I'm wrong on this, but not so sure right now.
If you are in one of the big money championships, please remember to get your roster in order for the playoffs. Make sure you have backups at all the positions because transactions are locked after this week. Don't get caught off guard because of injury. And please handcuff those star players. You need to remember to do the little things if you hope to come out on top. Every detail counts. And don't hesitate to examine the playoff schedules to add a defense or even a tight end with a favorable matchup during the championship playoffs. Just something to keep in mind this week.
I am excited to run the numbers after the season to see how many championship teams owned James Robinson, but I'm guessing a whole lot. Robinson is having a remarkable rookie season, bringing back memories of undrafted free agent Arian Foster several years back. Robinson is a top-five fantasy back. He has nearly 1,200 total yards, eight touchdowns and 36 receptions. His consistency has been off the charts this year. And I don't see this as a fluke. Robinson is a very talented player that should be a big part of this offense for years to come. He'll only get better as the offense around him gets better.
I say it every year but I'll say it again. Don't get too cute this time of the year. Go with your studs as you try to make a playoff push. I know you want to play the matchups sometimes and try to steal some points, but the chances of that working out aren't always too high. Benching your stars for mediocre players with great matchups can be a recipe for disaster. It is good to examine the matchups but don't overthink things.
News and Notes: Texans receiver Will Fuller was suspended by the NFL for six games for violating the league's performance-enhancing drug substance policy on Monday. This is a huge loss for the Texans, missing their top receiver for the rest of this season. . . . .Texans cornerback Bradley Roby has been suspended six games for violating the NFL's substance abuse policy on Monday. . . . .The Packers signed receiver Tavon Austin on Tuesday. He adds some more depth and another playmaker to the Packers offense.
HOT PLAYS
Miles Sanders, RB, Eagles. Sanders had a season-low six carries last week. He was the forgotten man in an offense that struggled much of the game. This shouldn't happen going forward, starting this week. Sanders has been the most consistent player in the Eagles offense. He has 80-plus rushing yards five of eight games. He needs double-digit touches per week for the Eagles to have success. If he gets the work this week, he should do well against the Packers, a team that just allowed David Montgomery to have his first 100-yard rushing game of the season last week.
Kirk Cousins, QB, Vikings. Cousins had a three-touchdown game last week, giving him three sores three of four games. He has at least 21 fantasy points four straight games. He has really picked up his play down the stretch and is playing with a lot of confidence in the Vikings offense. It would not surprise to see him have another three-touchdown game this week against the Jaguars. Jacksonville is 29th against the pass and allow 29.5 points per game.
Michael Thomas, WR, Saints. Thomas is finally starting to show some signs of life, even with Taysom Hill as his starting quarterback. He has 13 receptions his last two games. He had his only 100-yard game of the season in Week 11 and has been targeted at least six times four straight games. He looks to finally be 100 percent healthy and is Hill's favorite target in the passing game. He plays a Falcons team he just played in week Week 11, his only team to have a 100-yard game against this season. Atlanta is 31st overall against the pass and allow 25.5 points per game.
Raheem Mostert, RB, 49ers. Mostert returned from his knee injury last week and led the team in carries and found the end zone. Mostert had 12.3 fantasy points, giving him double-digit fantasy points all but a game this year. He has really been a solid fantasy starter in a run-first offense. He should get a workout again this week against the Bills. Buffalo is just 25th against the run, allowing 129.6-rushing yard per game.
Jarvis Landry, WR, Browns. Landry had his first 100-yard game and scored his first touchdown of the season last week. He had eight receptions for 143 yards and a score on 11 targets. It was a very encouraging game for Landry, who had fewer than 30 yards two straight before last week. Landry has been pretty mediocre much of the year but certainly has the potential to produce big as the No. 1 option in this offense. Landry gets the Titans this week, a team that has struggled to stop fantasy receivers this year and are 28th overall against the pass.
COLD PLAYS
DeAndre Hopkins, WR, Cardinals. Hopkins isn't a guy you can bench but you might want to temper your expectations for him this week. He has fewer than 60 yards three of four games. He has really slowed down since a great start to his season. Kyler Murray has sputtered some in recent weeks, helping lead to Hopkins down production. It could be more of the same this week against the Rams. Hopkins likely gets shutdown corner Jalen Ramsey shadowing him. The Rams are third overall against the pass, allowing just 203.5-passing yards per game.
Brian Hill, RB, Falcons. Hill might get another start this week for the banged up Toddy Gurley but that doesn't mean he should be in your lineup. Hill had 13 carries for 55 yards in a starting role last week but didn't have a catch, finishing with just 5.5 fantasy points. He has double-digit fantasy points just one game all year. He is a hard player to trust because he is a little touchdown dependent because he doesn't catch many passes. And a game this week against the Saints isn't a good matchup for Hill. The Saints have been great against the run this year, allowing the second fewest rushing yards in all of football. It is probably best to just avoid Hill this week.
Marvin Jones, WR, Lions. Jones was targeted a season high 12 times last week but finished with pretty mediocre numbers despite all the looks. He had six receptions for 48 yards. Jones has fewer than 55 yards four of five games. His number haven't gotten much better with Kenny Golladay out of the lineup. Look for another mediocre showing this week against a good Bears pass defense. Chicago is 11th overall against the pass, allowing 223.7-passing yards per game.
Duke Johnson, RB, Texans. Johnson had a solid game last week, scoring 17 fantasy points. He did most of his damage in the passing game, though. He had three receptions for 43 yards and a touchdown. He did not do much on the ground once again despite starting, having nine carries for 37 yards. Johnson had not topped 55-rushing yards in a game this season. He has value because he'll catch passes but even his reception totals aren't that great this year. Johnson has 10 catches his last four games in an expanded role for the Texans. His ceiling isn't very high, especially this week against the Colts. Indianapolis is seventh overall against the run and been very tough on fantasy running backs this year.
Ben Roethilsberger, QB, Steelers. Roethlisberger has multiple touchdowns all but a game this year. He has been consistent but his fantasy numbers haven't always been off the charts, having fewer than 20 fantasy points three times. The Steelers will be on a short week and face Washington, a team with one of the best pass defenses in all of football. Washington is first overall against the pass and a top-10 defense against fantasy quarterbacks this season. It wouldn't surprise to see Roethilsberger have a down fantasy performance for his standards. Things seem stacked against him.
SLEEPERS
Nyheim Hines, RB, Colts. Hines got more work running the ball with Jonathan Taylor out last week but did most of his damage in the passing game once again. He ran 10 times for 29 yards but had eight receptions for 66 yards. His reception total tied a season high and his receiving yards was a season best. Hines has 17-plus fantasy points three of five games. He is getting more consistent work in recent weeks and producing. Expect more of the same this week against the Texans, a team 31st against the run and allowing 27 points per game.
Keelan Cole, WR, Jaguars. Cole hasn't been off the charts this year but consistent. He has five games with double-digit fantasy points. He was targeted six times last week in Mike Glennon's first game as a starter for the Jaguars. This is a decent sign for Cole, getting a good amount of looks. He should have more success with that many chances this week against the Vikings, a team that has allowed some big fantasy games to receivers this year. Cole is a sneaky play as a No. 3 or flex option in Week 13.
Jordan Reed, TE, 49ers. Reed was a disappointment last week, catching just two passes for 18 yards. He was targeted six times in the game, though, and has six targets each of his last two games. He is getting some consistent looks, giving him some upside going forward. The tight end position isn't very good and Reed has a favorable matchup this week, playing Buffalo. The Bills allow the second most fantasy points to tight ends. Reed is worth a shot this week for tight-end needy fantasy teams.
Denzel Mims, WR, Jets. Mims has double-digit fantasy points three straight games. He has 60-plus yards all three of those games. He is getting it done on a weekly basis as a top option in the Jets passing attack. Mims has at least seven targets four of five games. He can have more success this week against the Raiders, a team 27th against the pass and allow 29 points per game.
Colt McCoy, QB, Giants. It is a huge risk to use McCoy this week, but he has some potential against the Seahawks. Seattle is playing better defensive of late but still have some holes, especially in the secondary. The Seahawks remain dead last against the pass and allow 27.6 points per game. McCoy has some past history and having the big game, especially as the starter in Washington in 2014. Don't discount him to put up some fantasy points in this one. He should get his chances to air it out, playing from behind.
High/Low Scoring Games
Each week we will take a look at some of the high and low scoring games for the coming week. In high scoring affairs, get your marginal players on those teams in your lineup to take advantage of the possible points barrage. And in the low scoring games, keep those marginal players on the bench and make sure to have your defenses involved in those contests.
High Scoring Games: Falcons/Saints, Rams/Cardinals.
Low Scoring Games: Lions/Bears, Raiders/Jets.
Bye week: Bucs, Panthers.
Jeff Paur is a two-time finalist for FSWA Fantasy Football Writer of the Year and won the FSWA award for Best Fantasy Football Article on the Web in 2011. He also was the most accurate expert in 2012, winning the FSTA Fantasy Football Accuracy Award. If you have any questions for Jeff, email him at jeff@rtsports.com. Follow Jeff on Twitter @jeffpaur.