Lineup Prep: Divisional Round Games
Wed Jan 13 9:39am ET
By JEFF PAUR
Sr Fantasy Writer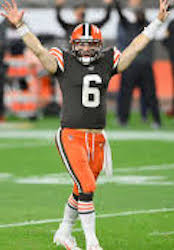 Mayfield is playing at high level
The first round matchups weren't too bad last week. Let's hope the games this week are even better, though. The potential is there for some really exciting games, so here is to hoping it plays out that way. Now for my random thoughts for the week. . . . .
The Seahawks really slipped offensively as the season progressed this year. The offense was really unimaginative and teams picked up on that, shutting down the unit. It made sense for the Seahawks to fire Brian Schottenheimer this week. It was time for a change offensively. Hopefully, the team can find a good fit for Russell Wilson and the rest of the top weapons the Seahawks have on offense. This unit can be special if all goes well for them
I'm really looking forward to two games this weekend. The Ravens/Bills and Bucs/Saints should be great matchups. I think they are real tossups that could go either way. The Ravens/Bills should be an explosive game offensively. I think a lot of fantasy points will be scored in this one. The Bucs/Saints game won't be quite as high scoring but should be a really close one. I love the way the Bucs are playing right now, so I would not be surprised if they won this road matchup. Tampa is really clicking on both sides of the ball. Two of the best quarterbacks of all time will duke it out for a chance to advance to the NFC Championship.
Quietly, Calvin Ridley really had a great fantasy season. His strong finish to the year propelled him to fifth overall in fantasy receiver scoring. He had 100-yard games four of his last five and found the end zone three of six. Ridley gets a ton of volume in this pass-first offense and should continue to be a fantasy star for years to come. He is going to be a top-five fantasy receiver in my rankings for 2021.
Could you imagine how good of a fantasy player Nick Chubb would be without Kareem Hunt around? He is still a stud now even with Hunt taking work from him. Chubb was 11th overall in fantasy running back scoring despite missing four games because of injury. He had a 145 total yards and a score last week in the Browns playoff victory. Chubb found the end zone six straight games to end his season. Chubb is just hitting his stride and should be a consistent fantasy factor the next several seasons. He is a legit top-10 fantasy back and could even be top five if all goes well for him.
Baker Mayfield has really picked up his game this second half of the season. And what impresses me the most is he is doing this without arguably his top receiver, Odell Beckham. Mayfield is producing at a top level with Jarvis Landry, Rashard Higgins and Austin Hooper. Sure, these guys are fine players but they aren't superstars by any means. If Mayfield can get a little more talent around him, I think his ceiling can be really high. He is playing with confidence and producing in an offensive scheme that fits him very well.
News and Notes: The Eagles fired head coach Doug Pederson on Monday. Pederson likely would have kept the job if not for a Week 17 decision to pull starting quarterback Jalen Hurts with the team still in the game. . . . .The Bills signed running back Devonta Freeman to the practice squad Tuesday. He gives the team some insurance at running back with Zack Moss out the rest of the playoffs.
HOT PLAYS
Mark Andrews, TE, Ravens. Andrews had four receptions for 41 yards on six targets last week. He has been a much bigger factor in the passing game down the stretch, having at least four receptions seven straight games. He has 12-plus fantasy points five of seven games. Andrews should be setup for another good showing this week against the Bills. Buffalo struggles to stop the tight end, allowing the fifth most fantasy points to tight ends.
Cam Akers, RB, Rams. Akers has been getting big workloads down the stretch for the Rams, emerging as the clear lead back for the team. He has 21-plus carries four of five games. He had 30 touches for 176 total yards and a score last week, scoring 25.6 fantasy points. Akers is the centerpiece of the offense right now with the quarterback situation hurting. Expect him to get 25-plus touches again this week. The Packers allow the fifth most fantasy points to running backs and have allowed some big games to running backs this season.
Patrick Mahomes, QB, Chiefs. This isn't really going out on a limb but you have to love Mahomes this week in a matchup against a team that just gave up 500-plus passing yards. Mahomes could have a huge game in this one, playing a Brown team that allows the eighth most fantasy points to quarterbacks. Cleveland has allowed 300-yard passing games three of six games. Mahomes has seven games with 30-plus fantasy points and could make it eight in this playoff matchup.
COLD PLAYS
Leonard Fournette, RB, Bucs. A lot of people might be on Fournette this week because he could get the start once against with Ronald Jones hurting. Fournette had a good showing last week, scoring 23.2 fantasy points against Washington. He had 132 total yards and a touchdown, his best game of the season. But we worry about a really tough matchup against the Saints. New Orleans allows the fewest fantasy points to running backs. The Saints held the Bucs to just 94-rushing yards in two games this year.
Emmanuel Sanders, WR, Saints. Sanders had his worst game in a long time last week, catching just two passes for three yards on three targets. The return of Michael Thomas was not a good thing for Sanders' production He is a hard player to trust with Thomas back in the lineup. It would not surprise to see him struggle again this week against the Bucs. He did score two touchdowns against the Bucs this year but had just seven receptions for 53 yards in two games. He'll be a hard to trust touchdown dependent play in this matchup.
Robert Woods, WR, Rams. Woods found the end zone last week but had just four receptions for 48 yards. The quarterback injury issues for the Rams is a real concern for Woods. He has fear than 50 yards four of five games. He has really cooled late in the year. He could struggle again this week for much of the same quarterback concerns. Plus, he plays the Packers, a team that allows the fifth fewest fantasy points to receivers but struggle to stop the running back (allow the fifth most fantasy points to running backs).
SLEEPERS
Sammy Watkins, WR, Chiefs. Watkins had a quiet season, battling injury while doing little while on the field. He remains a starter in this high-powered offense, though. And he produced some big games in the Chiefs playoff run last year. Watkins had 75-plus yards in all three playoff games last year. And he topped that mark just once all last year, so his big performance in the playoffs was a bit of a surprise. He could be setup for similar success this year, especially this week against a Browns defense that has struggled to stop the pass much of the year. Cleveland allowed more than 500-passing yards last week and ranked 22nd against the pass during the regular season.
Baker Mayfield, QB, Browns. Mayfield has been red hot, having just one interception since Week 7. He has 20-plus fantasy points five of seven games. He had a three-touchdown performance last week against a very good Steelers defense on the road. He has another tough matchup this week against the Chiefs, but it is hard to bet against him to perform at this point. He is playing with a lot of confidence and could be getting more chances to air it out in a game the Browns could be playing from behind. Mayfield seems a good bet to top 20 fantasy points once again.
Gabriel Davis, WR, Bills. Davis just keeps making big plays. He did it again last week, catching four passes for 85 yards. He made some great catches at key times for the Bills. He also has been a top red-zone threat for the team, having scores four of seven games. The Bills will need him to come up big again this week if they hope to win. The Ravens likely will focus on shutting down the Bills top two targets, Stefon Diggs and Cole Beasley, so Davis might get some favorable coverages. He could produce well again in this one.
High/Low Scoring Games
Each week we will take a look at some of the high and low scoring games for the coming week. In high scoring affairs, get your marginal players on those teams in your lineup to take advantage of the possible points barrage. And in the low scoring games, keep those marginal players on the bench and make sure to have your defenses involved in those contests.
High Scoring Games: Ravens/Bills, Browns/Chiefs.
Low Scoring Games: None.
Jeff Paur is a two-time finalist for FSWA Fantasy Football Writer of the Year and won the FSWA award for Best Fantasy Football Article on the Web in 2011. He also was the most accurate expert in 2012, winning the FSTA Fantasy Football Accuracy Award. If you have any questions for Jeff, email him at jeff@rtsports.com. Follow Jeff on Twitter @jeffpaur.