Waivering: Week 11
Tue Nov 16 8:32am ET
By JEFF PAUR
Sr Fantasy Writer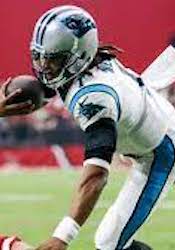 Newton could help fantasy teams
Normally, players signed at this point of the season aren't too exciting for fantasy teams. But this season, there are some options out there signing late that might help. It is a little unusual to see, but don't discount some of these guys to help. They are in some situations to have success.
Here are some options to consider for this week. . . . .
QUARTERBACK
Cam Newton, Panthers. Newton signed with the Panthers last week and got in a handful of plays in the Week 10 game. He managed to score two touchdowns in his limited work. He should start Week 11 and going forward for the Panthers. Newton has some real potential going forward as the starter in this offense. We all know what he did in the past with the Panthers. We just have to see if he has anything left in the tank. He is worth a speculative add for fantasy teams needing a quarterback.
Trevor Siemian, Saints. Sieman has 20-plus fantasy points two straight games as the starter for the Saints. He also is yet to throw an interception. As long as he keeps making plays and moving the offense. he'll keep starting for the Saints. He has some potential in the right matchup, making him worth a look in deeper formats.
Justin Fields, Bears. Just because he was on a bye last week, don't forget about Fields. He is coming off his best game as a pro. He has 22-plus fantasy points two straight games and is rounding into form at this stage of his career. He seems to be gaining confidence every week. He could be a really factor down the stretch and is available in 45 percent of leagues.
RUNNING BACK
Wayne Gallman, Falcons. The Falcons got down big last week and gave Gallman his most work of the season. He ran 15 times for 55 yards and caught a pass for 21 yards. With Mike Davis struggling and Cordarrelle Patterson hurting, Gallman might be working his way into a bigger role offensively for the Falcons. He miight be worth a speculative add for running back needy teams.
A.J. Dillon, Packers. Dillon is available in just 13 percent of leagues, but if you are in one of those leagues, grab him now. He could be the starter going forward for the Packers with Aaron Jones hurting his knee last week. Dillon could be a No. 1 fantasy back the rest of the way as the starter for Green Bay.
D'Onta Foreman, Titans. Foreman actually had the most carries for the Titans last week, running 11 times for 30 yards. He also caught two passes for 48 yards, giving him 78 total yards. He has 16 carries in two games since joining the Titans. He might be the back to own right now, getting the most work for the team. Adrian Peterson has not looked great with his chances, so if Foreman can continue to make plays, his playing time could increase. He is available in 88 percent of leagues.
RECEIVER
Jamal Agnew, Jaguars. Agnew had double-digit fantasy points for the fourth time in five games last week. He didn't catch a pass but ran three times for 79 yards and a score. He keeps getting his weekly chances and producing some decent numbers. He has legit value for fantasy teams right now.
Gabriel Davis, Bills. Davis had his first 100-yard game of the season last week. He has double-digit fantasy points two of three games. His role seems to be growing a little in the Bills offense. He might be a factor down the stretch.
Marcus Johnson, Titans. Johnson was a huge surprise last week, catching five passes for 100 yards on six targets. But with Julio Jones out of action the next few weeks, Johnson could have a bigger role in the offense short term. He is a risk because he will likely be inconsistent but last week proved the potential is at least there for Johnson.
Kendrick Bourne, Patriots. Bourne had his biggest receiving yard game of the season in Week 10, catching four passes for 98 yards and a touchdown. He also ran three times for 43 yards, giving him 141 total yards. Bourne has double-digit fantasy points five of 10 games. The Patriots offense is starting to hit it's stride, so Bourne has some potential the rest of the way. He is available in 63 percent of leagues.

TIGHT END
Dan Arnold, Jaguars. Arnold keeps getting picked up in leagues every week but remains available in more than 50 percent of leagues (51 percent to be exact). He keeps making plays in the Jaguars passing game. He has double-digit fantasy points three straight and four of five games. He is producing like a low-end No. 1 tight end as the starter for the Jaguars.
Albert Okwuegbunam, Broncos. Okwuegbunam seems to be getting more involved in the offense every week. He caught three passes for 77 yards and has at least three receptions three straight. He is a big-play threat at the position and might be trending towards a good finish to his season.
Gerald Everett, Seahawks. Everett had his best game of the season last week, finishing with eight receptions for 63 yards. Everett has been pretty quiet much of the year, but does have three games with double-digit fantasy points. He has some potential the rest of the way if he keeps getting the looks.
Jeff Paur is a two-time finalist for FSWA Fantasy Football Writer of the Year and won the FSWA award for Best Fantasy Football Article on the Web in 2011. He also was the most accurate expert in 2012, winning the FSTA Fantasy Football Accuracy Award. If you have any questions for Jeff, email him at jeff@rtsports.com. Follow Jeff on Twitter @jeffpaur.