Studs and Duds: Wild Card Weekend
Tue Jan 18 9:04am ET
By JEFF PAUR
Sr Fantasy Writer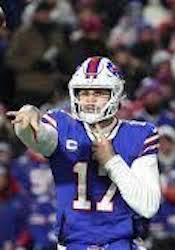 Allen has monster performance
Well, that wasn't too exciting this weekend. I had higher hopes for the games, but for the most part, the games were not very good. There was just one game decided by less than seven points. And even that game wasn't very close for much of the game. Here is to hoping things are more competitive this coming week.
Bengals 26, Raiders 19
Fantasy Stud: Ja'Marr Chase. Chase led the way at receiver for the Bengals once again. He caught nine passes for 116 yards. He also ran three times for 23 yards, giving him 139 total yards. Chase has 100-yard games two of his last three. He had a monster rookie season and looks to be a fantasy star for years to come, especially after coming up so big in his first playoff game.

Fantasy Dud: Tee Higgins. Higgins was the Bengals receiver that disappeared in this one. He had just a catch for 10 yards. Higgins was limited in practice all week because of a foot injury, so maybe this had something to do with his down game. He had a some monster games down the stretch, so this disappearing act was a bit of a surprise for fantasy owners.
Game Notes: C.J. Uzomah had a big game, catching six passes for 64 yards and a touchdown. This was his highest reception total of the season and the first time he scored since Week 7.
Darren Waller was a big part of the passing game, finished with seven receptions for 76 yards. He finally looked healthy and was a big contributor for the Raiders once again.
Bills 47, Patriots 17
Fantasy Stud: Josh Allen. Allen had a monster performance, going 21-of-25 for 308 yards and five touchdowns without a turnover. He also ran six times for 66 yards. Allen was unstoppable and the Patriots had no answer for him. He moved the offense up and down the field all night. If Allen can continue his strong play, he might be the first quarterback off the board in fantasy drafts in 2022.

Fantasy Dud: Damien Harris. Harris had nine carries for 30 yards and caught a pass for seven yards. He didn't get the work with the Patriots down big in a hurry. He had 100-yard games each of his first two games against the Bills this year, so there were higher hopes for Harris in the playoff opener.
Game Notes: Dawson Knox was the top target for the Bills, catching five passes for 89 yards and two touchdowns. His yardage total was his second highest of the season. This was his third multiple touchdown game.
Kendrick Bourne was one of the few bright spots for the Patriots. He had seven receptions for 77 yards and two touchdowns. Bourne had 75-plus yards two of his last three games.
Bucs 31, Eagles 15
Fantasy Stud: Mike Evans. Evans had a big game as the top option in the Bucs passing attack. He had nine receptions for 117 yards and a touchdown. It was his first 100-yard game since Week 5 of the season. He has been finding the end zone on a regular basis, though, scoring 15 touchdowns now on the season.

Fantasy Dud: Miles Sanders. Sanders returned from his broken hand but had little room to run against a good Bucs rush defense. He had seven carries for just 16 yards, averaging just 2.3 yards per carry. He also caught three passes for 12 yards. Sanders had an uneven season but finished well, which should help his chances to be the starter to open next year.
Game Notes: Ke'Shawn Vaughn and Giovani Bernard split the work at running back for the Bucs. Vaughn had 17 carries for 53 yards and a touchdown. Bernard ran 13 times for 44 yards and a touchdown. Bernard was heavily involved in the passing game, catching five passes for 39 yards.
Dallas Goedert was the top target for the Eagles, having six receptions for 92 yards. Goedert had 70-plus yards four of his last five games.
49ers 23, Cowboys 17
Fantasy Stud: Deebo Samuel. Samuel continues to be a huge part of the 49ers offense in a variety of ways. He had three receptions for 38 yards and ran 10 times for 72 yards and a touchdown. He had 110 total yards and a score. Samuel has 20 or more fantasy points three of four games.

Fantasy Dud: CeeDee Lamb. Lamb caught just a pass for 21 yards in game the Cowboys threw the ball 44 times. You just expect Lamb to be more involved in the offense. Lamb had fewer than 66 yards six straight games to end his season. He didn't have quite the breakout season most expected this year.
Game Notes: Ezekiel Elliott had his struggles on the ground once again. He had 12 carries for just 31 yards, averaging just 2.6 yards per carry. You have to wonder what the Cowboys will do with Elliott next season after another disappointing year.
Elijah Mitchell finished just four yards shy of a 100-yard performance. He ran 27 times for 96 yards and a touchdown. Mitchell has at least 85-rushing yards three straight games.
Chiefs 42, Steelers 21
Fantasy Stud: Patrick Mahomes. Mahomes was his usual electrifying self in this game, going 30-of-39 for 404 yards and five touchdowns with an interception. He also ran three times for 29 yards, giving him 42.1 fantasy points. This was a season high in fantasy points for Mahomes. He is playing his best football at a good time for the Chiefs.

Fantasy Dud: Najee Harris. The Chiefs completely shut down Harris. He ran 12 times for just 29 yards and caught two passes for a negative yard. Harris also lost a fumble, scoring just 4.9 fantasy points. Harris had a big rookie year but slowed down a little late in the year, having fewer than double-digit fantasy points three of five games.
Game Notes: Jerick McKinnon got nearly all the work at running back and produced very well in a lead role. He had 12 carries for 61 yards. McKinnon also had six receptions for 81 yards and a touchdown.
Ben Roethlisberger had a decent game in his last game in the NFL. He was 29-of-44 for 215 yards and two touchdowns without a turnover.
Rams 34, Cardinals 11
Fantasy Stud: Odell Beckham. Beckham has been revitalized with his move to the Rams. He had four receptions for 54 yards and a touchdown. He also threw a 40-yard pass in the game. Beckham has scores three of four games and six of eight. He has been a dependable target for the Rams and a top red-zone threat.

Fantasy Dud: Kyler Murray. Murray was awful, looking nervous in his first ever playoff game. He was 19-of-34 for 137 yards with two interceptions. Murray threw an awful interception near his own goal line, leading to a Rams touchdown. He looked flustered the entire game and made next to no plays down the field. You just expected better from Murray, who looked completely lost much of the game.
Game Notes: Cam Akers looked really good in an expanded role, leading the Rams backs in touches. Akers ran 17 times for 55 yards and caught a pass for 40 yards. He seems completely back to full strength from his torn Achilles.
A.J. Green didn't have a catch in this game. Christian Kirk led the way at receiver for the Cardinals, finishing with six receptions for 51 yards.
Jeff Paur is a two-time finalist for FSWA Fantasy Football Writer of the Year and won the FSWA award for Best Fantasy Football Article on the Web in 2011. He also was the most accurate expert in 2012, winning the FSTA Fantasy Football Accuracy Award. If you have any questions for Jeff, email him at jeff@rtsports.com. Follow Jeff on Twitter @jeffpaur.