Lineup Prep: Divisional Round Games
Wed Jan 19 10:09am ET
By JEFF PAUR
Sr Fantasy Writer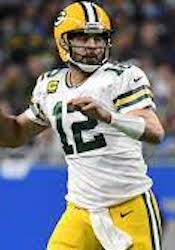 Rodgers could repeat big game
I sure hope the games this weekend are more entertaining than last week. It has to, right? And on paper, these games sure seems like some good ones. I am having a hard time picking all four. I really think all teams playing this weekend could win, including the road teams. This should make for some great football. Now for my random thoughts for the week. . . . .
I would temper my expectations for Derrick Henry if he plays this week. He is returning from a major foot injury and I would look for the Titans to ease him into action after his long layoff. I think it will be more of a timeshare with D'Onta Foreman. And if the Titans win, Henry might be unleashed more the following week.
I'm not sure what the heck happened got Kyler Murray last week. He was awful. He looked rattled and played like a rookie in his first NFL game. It was a disturbing performance. Murray is going to have a lot of doubters going forward until he wins a big game on the big stage. He needs to let the game slow down and make much better decisions. His interception in his end zone was as bad as it gets. Here is to hoping he can put that one behind him and learn from hit. He certainly has the ability to be one of the best quarterbacks in football.
The Cowboys head-scratching quarterback draw as time was running out is going to be examined all offseason. Head coach Mike McCarthy has had a lot of time management issues over the years, though, so this strange play call fits his resume. I don't think the Cowboys will fire him over this, but he is going to be on a real short leash going forward. And if the Cowboys lose both coordinators this offseason, which is possible, there is going to be even more pressure on McCarthy. He is not in a good spot.
I think Jimmy Garoppolo proved last week why the 49ers took a quarterback in last year's draft. He has all the tools but just makes some costly mistakes at key times. The 49ers were in control of that game last weekend until Garoppolo threw a terrible pick six, putting the Cowboys right back into the game. He is likely going to be starting somewhere next year, but expect more up and down production in that starting role.
There are rumors swirling the Vikings are going to shop Kirk Cousins this offseason. I know he can play poorly at bad times, but his overall production is really good. If I were the Vikings, I would hold onto him. But if he is dealt, I think the Broncos would be a great fit. I think Denver is setup similar to the Vikings with a good back and two top-notch receivers. Cousins could be a huge upgrade for the Broncos and help those young receivers get a lot better in a hurry. It will be interesting to see how this plays out.
There are a lot of quarterbacks that are making a strong case to be ranked first overall next season. I don't think there is a clear-cut favorite, showing how good the position is right now. Justin Herbert, Josh Allen, Patrick Mahomes and Joe Burrow are my top candidates to rank first for 2022. And I'm not leaning towards any of them at the moment. I even left out Kyler Murray, Dak Prescott and Aaron Rodgers, who I think you could make a case for first overall. This position is crazy deep right now.
HOT PLAYS
Ja'Marr Chase, WR, Bengals. Chase hit the 100-yard mark in his first playoff game, catching nine passes for 116 yards on 12 targets. He has 100-yard games three of four and double-digit targets three of those games. He is getting a ton of looks and producing big numbers with all those chances. Expect more of the same this week against the Titans, a team that allowed the second most fantasy points to receiver curing the regular season.
Aaron Rodgers, QB, Packers. Rodgers played at an MVP level once again this season, finishing with 40 total touchdowns to just four interceptions. He has at least 22 fantasy points six of his last seven games. He is setup for another big game against the 49ers this week. In Week 3 against San Francisco, Rodgers was 23-of-33 for 261 yards and two touchdowns without a turnover. He scored 22.1 fantasy points.
Titans rushing game. It looks like Derrick Henry has a chance to return this week. He might be eased into action in his first game back in a long time, but you have to like his potential if he gets double-digit touches. He gets a Bengals defense that allowed the 11th most fantasy points to running backs during the regular season. D'Onta Foreman also is a good play, having played very well in a lead role for the Titans. Foreman has 100-yard games three of six. He also has touchdowns three of those games.
COLD PLAYS
Joe Mixon, RB, Bengals. Mixon has not done a whole lot in recent weeks. He has fewer than 70-rushing yards six straight games. He has less than double-digit fantasy points two of those games. It could be more tough sledding for him this week against a Titans team that is bad against the pass but good against the run. The Titans allowed the fewest fantasy points to running backs this season and ranked second overall against the run.
Tyreek Hill, WR, Chiefs. Hill was banged up late in the year, causing his numbers to slip a little. He has fewer than 60 yards four straight games and five of seven. He did find the end zone last week but had just 57 yards. He still isn't making those big plays just yet. Hill is a guy you have to play but it might be another ho-hum game for him against the Bills. He had seven receptions for 63 yards against the Bills in Week 5. Buffalo allowed the fewest fantasy points to receiver this season.
Jimmy Garoppolo, QB, 49ers. Garoppolo led his team to a road win last week but was a little shaky in victory. He didn't even throw for 200 yards and failed to score a touchdown. He has not topped 20 fantasy points since Week 14. He is not a recommended fantasy play on the road against a Packers team that was 10th overall against the pass.
SLEEPERS
Van Jefferson, WR, Rams. Jefferson caught just a pass last week but it was a big one, gaming 41 yards. He has made a lot of big plays this year, having four games with 15-plus fantasy points. With the Bucs focusing on stopping Cooper Kupp and Odell Beckham, Jefferson could get some favorable coverages. It would not surprise to see him make some big plays in the passing game. The Bucs were just 21st against the pass this season.
Gabriel Davis, WR, Bills. Davis actually led the Bills in snaps last week at receiver, playing 71 percent of the snaps. He scored a touchdown, catching two passes for 41 yards on three targets. He has been getting more and more playing time as the season progressed and has turned into top red-zone target for the Bills. He has a chance to score again this week in what should be a high-scoring game. The Chiefs allowed the 12th most fantasy points to receivers during the regular season.
Anthony Firkser, TE, Titans. Firkser did not have the breakout season many expected, but did finally show some signs of life late in the year. He had touchdowns each of his last two games, scoring at least 11 fantasy points each of those games. Firkser had double-digit fantasy points three of his last seven games. He might find the end zone again this week against the Bengals, a team that has struggled against tight ends. Cincinnati allowed the sixth most fantasy points to tight ends.
High/Low Scoring Games
Each week we will take a look at some of the high and low scoring games for the coming week. In high scoring affairs, get your marginal players on those teams in your lineup to take advantage of the possible points barrage. And in the low scoring games, keep those marginal players on the bench and make sure to have your defenses involved in those contests.
High Scoring Games: Bengals/Titans, Rams/Bucs, Bills/Chiefs.
Low Scoring Games: None.
Jeff Paur is a two-time finalist for FSWA Fantasy Football Writer of the Year and won the FSWA award for Best Fantasy Football Article on the Web in 2011. He also was the most accurate expert in 2012, winning the FSTA Fantasy Football Accuracy Award. If you have any questions for Jeff, email him at jeff@rtsports.com. Follow Jeff on Twitter @jeffpaur.