Training Camp Preview: AFC North
Tue Jul 19 10:30am ET
By JEFF PAUR
Sr Fantasy Writer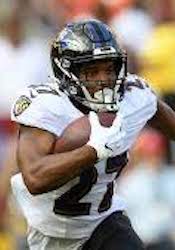 Dobbins returns from torn ACL
This is the second in a series of training camp previews. The previews give you a quick look at each team, going over position battles and injuries to watch in camp. The season is right around the corner.
Steelers
The story of the Steelers camp this year will be the quarterback position. There is going to be a new quarterback leading the way for Pittsburgh in 2022. You can expect all eyes to be on this position battle, seeing if the new quarterback can lead the team to the playoffs once again. The good news is the Steelers still have plenty of talent on both sides of the ball and won plenty of games last year despite the quarterback spot struggling some. Pittsburgh holds their training camp at Saint Vincent College in Latrobe, Penn.
Position battle: For the first time in a long time, the Steelers will have a new quarterback at the helm. Ben Roethlisberger has finally hung it up. Pittsburgh signed Mitchell Trubisky and drafted Kenny Pickett in the first round of this year's draft. This duo will battle it out for the right to start. It is like Trubisky's job to lose right now, but don't count out the talented rookie. Pickett isn't going to just hand him the job.
Injury watch: Rookie receiver George Pickens did not play until late his senior season as he recovered from a torn ACL. He did play and looked good, but his knee is still something to watch because he has played very little since returning from the major injury. We would still keep an eye on his health during camp to be sure he is 100 percent going forward. If he is at full strength, Pickens could challenge Chase Claypool to start. He has a world of talent.
Browns
The Browns had high hopes last year but disappointed. The team made a big splash this offseason, making a change at the quarterback spot. Cleveland still remains uncertain at quarterback, though, because of the uncertainty surrounded new quarterback Deshaun Watson. This is likely the story of camp, seeing all eyes on Watson. It could make for some distractions for the entire team. Cleveland gets things going at the Cross Country Mortgage Campus in Berea, Ohio.
Position battle: The Browns have some openings at receiver. Amari Cooper is the new No. 1 receiver, but after him, the depth chart is up in the air. Donovan Peoples-Jones, rookie David Bell, Anthony Schwartz and Jakeem Grant will battle it out for playing time. Peoples-Jones is the favorite to start opposite Cooper, but nothing is set in stone at this point. A strong camp and preseason could change things in a hurry for this unit. Stay tuned.
Injury watch: This isn't an injury but you can be sure much of camp will be focused on Deshaun Watson and his looming suspension. He is going to be suspended, but the amount of time remains up in the air. Having Watson as their starter puts this offense at a different level, so the team hopes he will not be out too long.
Ravens
The Ravens missed the playoffs last year, causing for a disappointing season. The team had a lot of injury issues, though, which didn't help their cause last year. So much of this camp will be getting the team healthy and staying healthy. The Ravens certainly have the talent to be one of the best teams in football. Baltimore holds training camp at the Under Armour Performance Center in Owing Mills, Md.
Position battle: This seems to be a common theme many years for the Ravens, but this year is no different. The team has some openings at receiver once again. Rashod Bateman is slotted in as the No. 1 receiver, but after him, things are pretty wide open. Devin Duvernay, James Proche, Jaylon Moore and Tylan Wallace are the top candidates to battle it out for playing time after Bateman. It might just end up being a revolving door at the position, but if someone emerges, they could have some fantasy value.
Injury watch: Starting running back J.K. Dobbins missed all of last year after tearing his ACL the last game of the preseason. He has recovered well from the injury but will be brought along slowly in camp. The Ravens have high hopes for Dobbins to be their franchise back for years to come, so they need him healthy and won't rush him back before he is ready. All signs point towards him being ready for Week 1, but keep an eye on camp and preseason action to be sure.
Bengals
The Bengals were a surprise last year, making it all the way to the Super Bowl. So you can bet expectations will be very high for this team. The Bengals won't surprise anyone this year Cincinnati will be one of the favorites to win it all. The big story might be their Super Bowl hangover, making it all the way to the big game but losing. How will this impact them going forward? We will get to see this team in action at Paul Brown Stadium in Cincinnati, Ohio.
Position battle: The Bengals really have all their starting positions figured out, but one position battle to watch is the backup running back job. Samaje Perine and Chris Evans should battle it out to be the top backup to Joe Mixon. Perine held the spot last year but Evans might be the more talented of the two with more upside. It would not surprise to see Evans emerge and get more playing
Injury watch: Tee Higgins had offseason surgery to repair a torn labrum. He has missed out on offseason programs, but expectations are he should be ready for the start of training camp. He might not be 100 percent for the start of camp, though, so don't be surprised if he is brought along slowly. The Bengals won't rush their star receiver back to action if they have any fear he isn't 100 percent healthy. But either way, Higgins is expected to be ready for Week 1, which is all that really matters to fantasy teams.
Jeff Paur is a two-time finalist for FSWA Fantasy Football Writer of the Year and won the FSWA award for Best Fantasy Football Article on the Web in 2011. He also was the most accurate expert in 2012, winning the FSTA Fantasy Football Accuracy Award. If you have any questions for Jeff, email him at jeff@rtsports.com. Follow Jeff on Twitter @jeffpaur.