The Case Against Aaron Jones
Tue Aug 2 1:17pm ET
By JEFF PAUR
Sr Fantasy Writer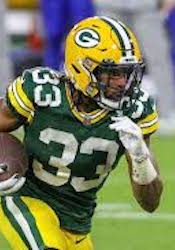 Jones carries some risk this year
For me, I think Aaron Jones is one of the toughest players to gauge this year. I think he could end up being a make or break pick for a lot of fantasy teams based on where you need to pick him come draft day. There is a lot going for him but also plenty of red flags. Where do you stand on Jones? For me, I'm letting someone else pick him come draft day. And here is why. . . . .
First off, here are some positives for Jones. He was 11th in fantasy running back scoring last year despite rushing for just 799 yards and missing two games. He reached his solid fantasy production with a career high in receptions (52) and receiving touchdowns (6). Jones was second out of all running backs in receiving scores.
Jones was fifth in fantasy scoring in 2020 and second overall in 2019. He has been a top 15 back each of the last three seasons, showing great consistency as the starter for the Packers. And there is some thought he could get more targets out of the backfield this year with Davante Adams gone and plenty of vacated targets to try to fill in Green Bay. So Jones does have plenty of good things going for him.
But here are some negatives that really scare me, especially for his current price tag that seems to be rising each week. Jones has an ADP of 20.59, ahead of players such as Ezekiel Elliott, Alvin Kamara, Cam Akers and David Montgomery. And I have seen Jones going at the start of the second round in recent drafts. For that price, I'm passing.
Now for the reasons on my hesitation on Jones.
Jones started and had a ton of work as a receiver last year, but his work as a runner really decreased as the season progressed. Jones had 15 or more carries just four times and not once after Week 8. And his snap count share has decreased each of the past two seasons, going from 62 percent in 2019 to 60 percent in 2020 and 58 percent last year. AJ Dillon keeps cutting into his workload and I don't think that is a fluke. It is a trend. Plus, Jones turns 28 towards the end of this season. Normally, backs start trending downward at this stage of their career. He isn't in the prime of his career anymore in year six.
And I'm not buying all the talk of Jones suddenly becoming a big-time target in the passing game. Based on the history of Aaron Rodgers, I just don't see it. I think it will be more of the same for Jones, finishing with similar receiving stats to his last three seasons (averages 49 receptions for 407 yards and four touchdowns).
I base this off Rodgers and his history with throwing to running backs. He has never been a huge dump off guy. In his 14 seasons as a starter, the top receiving back for Rodgers averages 36 receptions. That is not a big number. The highest receiving total for any back came last season with Jones getting 52 receptions. There have been just seven of 14 seasons that the Packers top receiving back caught 40-plus passes.
So as you can see, the Packers offense with Rodgers at the helm has never been one that heavily targets the running back. Sure, they get their catches but not like an Alvin Kamara or Austin Ekeler. And I don't see that suddenly changing this year even with Adams gone and the Packers looking for more help in the passing game.
The big elephant in the room when it comes to Jones is AJ Dillon. Dillon actually had more rush yards than Jones last year, running 187 times for 803 yards. He also had 16 more carries than Jones. Dillon played a career high 43 percent of the snaps last season. Expect that number to get closer to 50 percent this season. And while Dillon isn't known for his pass-catching skills. He is more than adequate. Dillon did not drop a pass last year, catching 34 passes for 313 yards. In comparison, Jones dropped three passes last season and has at least two drops every season in the NFL. Dillon can get it done as a three-down back, similar to Jones. It could be a changing of the guard at running back in Green Bay sooner than later. Dillon is a super talented player ready to shoulder the load.
Plus, Dillon is a prototypical short-yardage back and should handle much of those duties for the Packers this year. The goal-line chances for Jones could be less. And before last season, Jones never had more than three receiving touchdowns in a season, so we think his six receiving touchdowns last season are a bit of an outlier. It would not surprise to see a regression there for Jones. And if you factor in his fewer goal-line carries, Jones might get six or so scores after having reaching double digits three straight seasons.
In closing, I think Jones has too many red flags to use a second-round pick come draft day. I'm not buying the sudden hype around his value, especially when it comes to him being an elite pass catcher in this offense. I worry about another regressing this year with Dillon emerging as the eventual starter in this offense. Maybe Jones will prove me wrong, but I wrote a similar piece about Derrick Henry last year and we saw how that turned out. Henry was terrific when playing but broke down for the first time in his career, leading to a lot of disappointed fantasy owners. Do your homework and make an educated decision with all your picks.
Jeff Paur is a two-time finalist for FSWA Fantasy Football Writer of the Year and won the FSWA award for Best Fantasy Football Article on the Web in 2011. He also was the most accurate expert in 2012, winning the FSTA Fantasy Football Accuracy Award. If you have any questions for Jeff, email him at jeff@rtsports.com. Follow Jeff on Twitter @jeffpaur.