Studs and Duds: Wild Card Weekend
Tue Jan 17 8:39am ET
By JEFF PAUR
Sr Fantasy Writer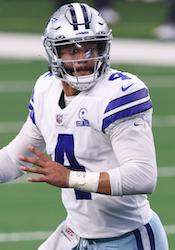 Prescott comes up big in playoffs
Most of the games were actually pretty competitive this weekend. All but two were one-score games in the end. This made for some good viewing for football fans. It also made for some big fantasy games. Several marquee players posted some really good fantasy numbers. Hopefully, these guys were on your fantasy playoff rosters.
49ers 41, Seahawks 23
Fantasy Stud: DK Metcalf. His team lost, but Metcalf was huge in the game. He put all the fantasy owners that rostered him in a great spot to open the playoffs. Metcalf had 10 receptions for 136 yards and two touchdowns. He scored a season high in fantasy points, finishing with 35.6 points. It was a great showing, especially after doing next to nothing his previous two games.
Fantasy Dud: Tyler Lockett. Lockett was held in check after posting good numbers his first two games against the 49ers. Lockett had six receptions for 39 yards. Lockett failed to reach double-digit fantasy points for just the fourth time all season. He still had a great overall season, posting much more consistent numbers for his standards.
Game Notes: The big stage of the playoffs was not too big for rookie Brock Purdy. He was 18-of-30 for 332 yards and three touchdowns without a turnover. He also ran in a score, giving him four total scores in the game.
Deebo Samuel had a great showing, catching six passes for 133 yards and a touchdown. He also had three rushes for 32 yards, giving him 165 total yards.
Jaguars 31, Chargers 30
Fantasy Stud: Evan Engram. Engram remains red hot in the Jaguars passing game. He had seven receptions for 93 yards and a touchdown. He continues to play a huge role in the passing game. Engram topped 20 fantasy points in the game for the second time this season. Engram has seven or more receptions four of six games.
Fantasy Dud: Josh Palmer. You would have thought Palmer would play a big role in the passing game with Mike Williams out. Well, that didn't happen. It was tight end Gerald Everett that got more chances. Palmer had just two receptions for 31 yards. Palmer had a pretty good season overall, but fantasy owners will look for more consistency in 2023.
Game Notes: Trevor Lawrence had a first half to forget, but somehow put that behind him and led his team to victory. He was 28-of-47 for 288 yards and four touchdowns with four interceptions.
Touchdowns saved Austin Ekeler's fantasy performance in this one. He ran 13 times for just 35 yards but found the end zone two times. He also caught just two passes for eight yards.
Bills 34, Dolphins 31
Fantasy Stud: Gabe Davis. Davis continued his flare for the dramatic in the playoffs, catching six passes for 113 yards and a touchdown. He made some big plays and helped his team to victory. Davis was not as consistent as fantasy owners hoped during the regular season, but he might be a little more consistent this postseason if history repeats itself.
Fantasy Dud: Jaylen Waddle. Waddle had a pretty quiet game, finishing with just three receptions for 44 yards. Waddle scored just 8.2 fantasy points, giving him that total two of his last three games. Waddle had a big season overall, though, and should be a top pick for fantasy teams once again in 2023.
Game Notes: Josh Allen had a couple bad interceptions, but did finish with 352 yards and three touchdowns. He will need to clean up his play if the Bills hope to make a long playoff run.
James Cook had more carries than Devin Singletary. Cook ran 12 times for 39 yards and a touchdown. Singletary ran 10 times for 48 yards.
Giants 31, Vikings 24
Fantasy Stud: Saquon Barkley. Barkley had a big game in his first playoff appearance. He ran nine times for 53 yards and two touchdowns. He also had five receptions for 56 yards. So he had 109 total yards and two scores, finishing with 27.9 fantasy points. Barkley continued his big season right into the playoffs.
Fantasy Dud: Justin Jefferson. Jefferson did have seven receptions but didn't top 50 yards. He had just 47 yards. Jefferson had a monster season but didn't finish his season very well. Heh ad fewer than 50 yards three straight games to end the year. Even with that said, Jefferson should be in consideration for top overall fantasy pick next season. He had one of the best fantasy seasons in recent memories this year.
Game Notes: Daniel Jones showed little nerves in his first playoff game, going 24-of-35 for 301 yards and two touchdowns without a turnover. He also led the team in rushing, running 17 times for 78 yards.
T.J. Hockenson got a huge workload for the Vikings, catching 10 passes for 129 yards. It was his second game with double-digit receptions and third hitting the 100-yard mark.
Bengals 24, Ravens 17
Fantasy Stud: Ja'Marr Chase. Chase had nine receptions for 84 yards and a touchdowns. He scored 23.4 fantasy points, giving him 22-plus points two straight games. Chase also has touchdowns four of five games. If not for injuries, Chase would have posted monster numbers this year. He could make a run at first overall in fantasy receiver scoring if he keeps trending this way.
Fantasy Dud: Joe Mixon. Mixon was really held in check, rushing 11 times for 39 yards. He also had three catches for 17 yards, giving him just 8.6 fantasy points. Mixon has been a little quiet lately, having fewer than 40-rushing yards three of four games.
Game Notes: Tyler Huntley had a very costly fumble, which led to the game-winning score for the Bengals, but played a good game besides that. He was 17-of-29 for 226 yards and two touchdowns with an interception. He also ran nine times for 54 yards.
J.K. Dobbins topped 100 total yards in the game. He ran 13 times for 62 yards and caught four passes for 43 yards and a touchdown. He had 105 total yards and a score.
Cowboys 31, Bucs 14
Fantasy Stud: Dak Prescott. Prescott sure put his last game behind him, playing a near perfect game in this playoff opener. He was 25-of-33 for 305 yards and four touchdowns without a turnover. Prescott had a season high in fantasy points, scoring 39.7 points. It was just the second time all year he had more than 30 fantasy points in a game.
Fantasy Dud: Leonard Fournette. Fournette had a really disappointing finish to his season, rushing five times for just 11 yards. But most disappointing was his one reception for six yards. Fournette was not utilized in the passing game often despite the Bucs playing from behind. Fournette had fewer than double-digit fantasy points three straight games to end his season.
Game Notes: Tony Pollard had a much better showing than Ezekiel Elliott despite getting a similar workload. Pollard had 15 carries for 77 yards while Elliott ran 13 times for just 27 yards.
Dalton Schultz had his third multiple touchdown game of the season. He had seven receptions for 95 yards and two scores. Schultz has 20-plus fantasy points two of three games.
Jeff Paur is a two-time finalist for FSWA Fantasy Football Writer of the Year and won the FSWA award for Best Fantasy Football Article on the Web in 2011. He also was the most accurate expert in 2012, winning the FSTA Fantasy Football Accuracy Award. If you have any questions for Jeff, email him at jeff@rtsports.com. Follow Jeff on Twitter @jeffpaur.