Lineup Prep: Divisional Round Games
Wed Jan 18 8:43am ET
By JEFF PAUR
Sr Fantasy Writer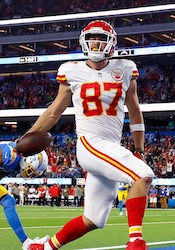 Kelce should get plenty of targets
And then there were eight. Yes, eight teams left for a right to go to the Super Bowl. It should be a great weekend of action. I think all the games should be very competitive and could go either way. I really mean that. The Giants are big underdogs but just keep getting better each week. And Daniel Jones is playing some great football. So needless to say, I'm really looking forward to the action this week. It should be great!
Now for my random thoughts for the week. . . . .
If I'm an NFL team, I'm not sure I pursue Tom Brady. I just don't know how much he has left in the tank. The only scenario that makes sense to be is if I draft a quarterback I don't trust as a rookie. You hate to count him out, but I'm just not sure he is going to be a difference maker at this stage of his career. He just misses on some throws he normally makes and will be another year older next season.
I can't see how the Chargers bring back Brandon Staley as head coach. That teams has too much talent to disappoint like they have this year. That offense needs a big-time spark, wasting some elite talent on that side of the ball. And Staley playing his starters in a meaningless game at the end of the year made no sense. It cost him with Mike Williams getting hurt. And then he blows a game in the playoffs he was up by 27 points. It sounds like the Chargers will bring him back, though, which is not good news for that team in my view.
You have to wonder what the Cowboys are going to do at kicker after Brett Maher missed four extra points last week. That has to be a huge concern for them. Every point matters so much in the playoffs. A missed extra point could be the difference between moving on or going home. I can't see the team having much faith in him after that display last week. It is tough to make a change at this point, though, especially with Maher kicking so well during the regular season.
So the big question this offseason is where does Lamar Jackson land. He is not coming back to the Ravens. That much I do know. I like the Jets as a fit. A young, up and coming team that sorely needs a franchise quarterback. He would have a lot of talent to work with offensively and could be a good fit there. I actually like the Falcons too as a landing spot. They have a strong running game and solid offensive line. Plus, it would be great seeing Jackson throw passes to Kyle Pitts. It should be an interesting offseason regarding Jackson. The good news is you can expect him to get moved before the draft, so we should know sooner than later.
That was quite the performance from Trevor Lawrence last week. He showed me a lot, coming back from his four interceptions. He could have folded and quit after the start to his game. That didn't happen. He kept plugging along and adjusted to his first-half mistakes. Lawrence just keeps impressing me on a weekly basis. He is going to be a good one for years to come.
I'm anxious to see how Brock Purdy responds when he is called on in a close game. The stage hasn't been too big for him to start his career, but it is going to just keep getting bigger for him as his team advances in the playoffs. He has answered every question to date, which has been impressive. How will he do if asked to complete a game-winning drive at the end of a game? It will be fun to watch.
News and Notes: The Titans hired 49ers director of pro personnel Ran Carthon as their new general manager. Carthon comes from a great organization and could be a great get for the Titans organization. . . . .Lions offensive coordinator Ben Johnson has informed interested teams that he's staying in Detroit in 2023. This is great news for the Lions offense, keeping Johnson in the fold for next season.
HOT PLAYS

Christian Kirk, WR, Jaguars. Kirk had a great showing in the Jaguars playoff opener, scoring 21.8 fantasy points. He has 21-plus points two straight games. He has been great as the top target in the Jaguars passing game. Expect more of the same this week against Kansas City. Kirk had nine receptions for 105 yards and two touchdowns against the Chiefs in Week 10. The Chiefs allow the eighth most fantasy points to receivers.
Travis Kelce, TE, Chiefs. Kelce is a must start every week, but look for the Chiefs to lean on him even more in the playoffs. Kelce has not scored touchdown since Week 12, but has four games with double-digit fantasy points during the stretch. He gets his weekly chances. Kelce had six catches for 81 yards and a touchdown against this same Jaguars team earlier this season. The Jaguars also have struggled to stop the tight end this year, allowing the seventh most fantasy points to tight ends.
Miles Sanders, RB, Eagles. Sanders had his best season to date this year. He topped 1,200-rushing yards and scored 11 touchdowns in the Eagles explosive offense. He has enjoyed some huge games, including one against the Giants in Week 14. He ran 17 times for a season-high 144 yards and two scores in that game. He could get a big workload again this week against a Giants team that ranks 27th overall against the run.
COLD PLAYS
Ezekiel Elliott, RB, Cowboys. Elliott is becoming a touchdown dependent fantasy play. He just isn't doing much outside of finding the end zone. He has fewer than 40-rushing yards his last three games. He has run 21 times for just 37 yards his last two. We just aren't sure he is worth the risk right now for fantasy teams. The 49ers also have been great against the run this year, ranking first overall in fewest fantasy points allowed to running backs. The 49ers are second overall against the run, allowing 77.7-rushing yards per game.
Isaiah Hodgins, WR, Giants. Hodgins had his best game of the season last week, catching eight passes for 105 yards and a touchdown on nine targets. He has been a big surprise down the stretch for the Giants, emerging as a top threat in the passing game opposite Richie Jams. But even with that said, he has just two games all season with more than 50 yards. He has been mediocre more than outstanding. And a matchup against a great Eagles secondary is not a good one for him. Philadelphia is first overall against the pass, allowing just 179.8-passing yards per game.
Gabriel Davis, WR, Bills. Davis has been up and down all season, frustrating fantasy owners. He was up last week, catching six passes for 113 yards and a touchdown on nine targets. It was a great showing for Davis. You just never know what you are going to get with him, though. He has a really tough matchup against a rapidly improving Bengals defense, a secondary that allows the sixth fewest fantasy points to receivers. It might be a down game for Davis this week.
SLEEPERS
Hayden Hurst, TE, Bengals. Hurst hasn't been off the charts this year, but pretty consistent for the Bengals. He has at least four receptions nine times. And he has been pretty involved in the offense since coming back from injury two weeks back. He has 11 targets his last two games and caught four passes each of those games. The Bills might focus on shutting down the high-powered receivers in the Bengals offense, giving Hurst a few more favorable looks. He might be a sneaky play for fantasy teams in this one.
Elijah Mitchell, RB, 49ers. Mitchell returned to action late in the year and has found the end zone each of the last two games he has played. He had just 27 total yards last week but had 11 touches in the game. The 49ers are getting him the ball, so expect more of the same for a team that likes to get multiple backs involved offensively. Plus, he gets a Cowboys team this week that has allowed some big rushing games this season. Dallas has allowed 150-plus rushing yards six times, including 200-plus yards twice. Mitchell could really do some damage with double-digit touches this week.
Cole Beasley, WR, Bills. Beasley had a season-high five targets last week for the Bills. He had two catches for 35 yards and his first touchdown of the season. He has a familiarity with Josh Allen and this offense, so he is worth a dart throw for fantasy teams in what could be a high-scoring game. It would not surprise to see Beasley find the end zone once again.
High/Low Scoring Games
Each week we will take a look at some of the high and low scoring games for the coming week. In high scoring affairs, get your marginal players on those teams in your lineup to take advantage of the possible points barrage. And in the low scoring games, keep those marginal players on the bench and make sure to have your defenses involved in those contests.
High Scoring Games: Jaguars/Chiefs, Bengals/Bills, Giants/Eagles.
Low Scoring Games: None.
Jeff Paur is a two-time finalist for FSWA Fantasy Football Writer of the Year and won the FSWA award for Best Fantasy Football Article on the Web in 2011. He also was the most accurate expert in 2012, winning the FSTA Fantasy Football Accuracy Award. If you have any questions for Jeff, email him at jeff@rtsports.com. Follow Jeff on Twitter @jeffpaur.