Lineup Prep: Week 2
Wed Sep 13 10:34am ET
By JEFF PAUR
Sr Fantasy Writer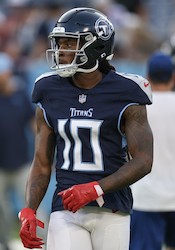 Hopkins looked great in Week 1
Here is my advice for Week 1. You have to process the info, but don't overreact. The best example I can make is my son's fantasy league with his high school buddies. They all fly off the handle over a week of action, making crazy trades and drops. They are teenagers that are impulsive, though. Don't be a teenager when it comes to managing your fantasy roster. You need to take it all in and make informed decisions going forward. A week doesn't make a season.
With that said, here are my random thoughts for the week. . . . .
I would worry if I'm a Garrett Wilson owner. He produced with a bad quarterback last season but you didn't pay nearly the price you paid for him in drafts this year. He is going to have a hard time matching his draft capital price tag with Zach Wilson throwing him passes. So if you can get a good trade for him now, I say go for it.
I also need to mention you have to be heartbroken if you are a Jets fan. You finally get your elite quarterback and seem setup for a possible magical season, but that comes to a screeching halt just a few minutes into your season. It was a tough scene. You have to wonder if Aaron Rodgers returns from this one at his age. It will be interesting to watch this offseason.
I wish I could have a better, more definitive answer with the Ravens running back situation. I really have no idea how that one is going to play out. I would suggest Gus Edwards out of all the options, but you never know with that running back room. Justice Hill is the best pass catcher and Melvin Gordon has the most experience. They will be in the mix. I actually think the best answer might be Kareem Hunt if he were to sign. I think he would be the best option out of the group. We'll see.
Tyreek Hill sure looked great in Week 1. His talk of topping 2,000 yards doesn't seem so far fetched after that performance. He could have a monster year if that first game is any indication. Hill looked as polished as ever and the Dolphins continue to do a great job of scheming plays for him.
My biggest surprise of Week 1 was the Rams beating the Seahawks pretty handily. I thought they were going to be awful this year, but you can't underestimate coach Sean McVay. He is a terrific head coach that had that team ready to play to open the season. I didn't think the Rams offense was going to be any good, but McVay got that team rolling with a lot of unknown players. Maybe this team will have some fantasy value outside of Cooper Kupp.
The tight end position is off to a great start. Wow, what a disaster of a first week for that position. Hopefully, this is not a trend for the rest of the year, but you have to wonder if it will be based on last year. The position dropped off in a big hurry after the top five last year. There could be a repeat coming. Stay tuned.
The Colts might need to scale back their designed runs for rookie quarterback Anthony Richardson. He took a beating that first game and is already banged up just a game into the season. It will be hard for him to stay upright if he has more games like Week 1. But with that said, he looked pretty good, especially throwing the ball, which was the concern for him. It was a good first start for the rookie. He topped 24 fantasy points and showed his huge weekly fantasy potential.
Brock Purdy is so undervalued in the fantasy community. He is now up to seven straight games with multiple touchdowns. He is as consistent as it gets at the quarterback spot and I don't see him slowing down in this offense. Purdy has some of the top playmakers to work with at every position and one of the best offensive lines in football blocking for him. He is setup for a big second season.
News and Notes: Seattle signed offensive tackle Jason Peters on Tuesday. The veteran tackle could move into the starting lineup at some point because of injuries along the line for the Seahawks in Week 1. . . .The Jets confirmed that quarterback Zach Wilson will start moving forward after Aaron Rodgers suffered a torn left Achilles in Week 1. New York might bring in a veteran to back him up, but it looks like Wilson is the guy for now. . . . .The Panthers signed running back Tarik Cohen to their practice squad on Wednesday. He has been out of the league the last few seasons, but is healthy and looking to earn a roster spot.
HOT PLAYS
DeAndre Hopkins, WR, Titans. Hopkins had a very encouraging start to his season, piling up 13 targets. He caught seven passes for 65 yards and looked as good as ever. As long as he is healthy and playing, his weekly production should be solid in this offense. Expect another good game this week against the Chargers. The Chargers allowed the most fantasy points to receivers last week and a league-high 466-passing yards.
Mike Evans, WR, Bucs. It was thought that Evans was slowing down and could be getting fewer looks with Chris Godwin around. Well, if Week 1 is any indication, his downfall was overblown. He led the Bucs in targets with 10 and caught six passes for 66 yards. It was a great start for the talented veteran receiver. He can keep it going this week against Chicago. The Bears allowed 245-passing yards last week and three passing touchdowns.
Jared Goff, QB, Lions. Goff led the Lions to a huge road win last week against the defending Super Bowl champs. His fantasy numbers were just alright, though, throwing for 253 yards and a touchdown. We expect a much better showing this week in his home opener against Seattle. The Seahawks allowed the third most passing yards last week (334) to a Rams offense that seemed to be lacking top options in the passing game. Goff can produce big against this unit.
Rhamondre Stevenson, RB, Patriots. Ezekiel Elliott did get some playing time last week for the Patriots, but Stevenson still payed 73 percent of the snaps and had 18 touches. He scored 14.9 fantasy points despite rushing for just 25 yards. Stevenson is the top back in this offense and will get a lot of weekly touches, especially in the passing game. Look for him to really get it going this week against Miami. The Dolphins allowed the most rushing yards in all of football last week and second most fantasy points.
D.J. Moore, WR, Bears. Moore had a really disappointing start to his season after a lot of offseason hype. He caught just two passes for 25 yards on two targets. Expect the Bears to make it a point to get him the ball early and often this week, especially after his performance last week. Plus, he has a better matchup against the Bucs, a team that allowed the third most fantasy points to receivers. Don't bench Moore because of last week.
COLD PLAYS
Najee Harris, RB, Steelers. Harris had a poor start to his season, rushing just six times for 31 yards. He scored just 5.3 fantasy points. He also split a lot of work with Jaylen Warren, playing 52 percent of the snaps compared to 40 percent for Warren. Things might not be much better for Harris this week against Cleveland. The Browns allowed the seventh fewest fantasy points to running backs last week and their entire defense looked great. If you have better options, you might want to go with them.
Odell Beckham, WR, Ravens. Beckham didn't do much in his Ravens debut, catching two passes for 37 yards on three targets. He was on the field a lot, but struggled to get open and rack up the targets. Beckham might be shaping up to be a matchup play this season. And a game this week against Cincinnati isn't a great one for him. The Bengals allowed the fifth fewest fantasy points to receivers last week.
Russell Wilson, QB, Broncos. Wilson looked a little better last week compared to last year, but still wasn't great. He failed to throw for 200 yards and scored just 17 fantasy points. And this came against just a so-so Raiders defense at home. He is more of a platoon option for fantasy teams. A game this week against Washington isn't a great one for Wilson. He gets a tough matchup against a relentless Commanders pass rush. Plus, Washington allowed the second fewest fantasy points to quarterbacks in Week 1.
Isiah Pachecho, RB, Chiefs. You never know what is going on with the Chiefs backs and last week proved that once again. Clyde Edwards-Helaire was the first back to get carries in the game. Pacheco did end up playing the most of the three backs, though. It was concerning to see Edwards-Helaire out there early. He might have a bigger role than most thought. Pacheco failed to reach double-digit fantasy points and had 12 touches for 54 yards. It might not be much better this week against Jacksonville. The Jaguars allowed the second fewest fantasy points to running backs and just 65-rushing yards.
Allen Lazard, WR, Jets. Lazard had just four targets in Week 1 and caught two passes for 46 yards. The loss of Aaron Rodgers is a huge blow to this entire offense and passing game, especially for Lazard. He had a good rapport with Rodgers, so you have to wonder about Lazard producing consistently with a new quarterback throwing him passes. The Jets are an offense to avoid this week against Dallas. The Cowboys might have the best offense in football and allowed the second fewest fantasy points to receivers in Week 1.
SLEEPERS
Curtis Samuel, WR, Commanders. Samuel gets lost in the shuffle sometimes but he remains a big part of this Commanders offense. Samuel played 65 percent of the snaps in Week 1. He topped double-digit fantasy points and had five receptions for 54 yard. He also ran once for six yards. He will get his weekly touches. Samuel gets a solid matchup this week against a Broncos secondary that could contain the top two receivers for the Commanders, but could struggle to stop Samuel out of the slot. The Broncos allowed the sixth most fantasy points to receivers last week.

Kayshon Boutte, WR, Patriots. Boutte did not get a catch his first NFL game but he was targeted four times in the game. And he played the second most snaps at receiver for the Patriots, ahead of JuJu Smith-Schuster. This bodes well for Boutte to produce going forward. We think good things could happen for him this week. Boutte plays a Dolphins defense that allowed the third most fantasy points to receivers. He could surprise in Week 2.
Jamaal Williams, RB, Saints. Williams dominated the work at running back last week, playing 75 percent of the snaps. He had 20 touches in the game. Expect more of the same from Williams in Week 2 against Carolina. The Panthers allowed the most fantasy points to running backs in Week 1. If he gets 20-plus touches this week, look for Williams to have a big game for fantasy teams.
Noah Fant, TE, Seahawks. Fant did not have a single catch or target in Week 1. It was not a good start for Fant. But he did play the most snaps of any tight end for the Seahawks and is the best pass catcher at the position for the team. Fant can get it going this week against the Lions, a team that allowed the fourth most fantasy points to tight ends in Week 1.
C.J. Stroud, QB, Texans. The Texans seemed comfortable with turning over their offense to Stroud. He attempted 44 passes in his first NFL game. He did not score a touchdown but also didn't throw an interception with all those pass attempts. He also did this on the road against a very good defense. Look for Stroud to score this week and produce better at home against the Colts. Indy truggled to stop the Jaguars passing attack last week, allowing the ninth most fantasy points to quarterbacks.
High/Low Scoring Games
Each week we will take a look at some of the high and low scoring games for the coming week. In high scoring affairs, get your marginal players on those teams in your lineup to take advantage of the possible points barrage. And in the low scoring games, keep those marginal players on the bench and make sure to have your defenses involved in those contests.
High Scoring Games: Vikings/Eagles, Seahawks/Lions, Chiefs/Jaguars.
Low Scoring Games: Bears/Bucs, Colts/Texans, Packers/Falcons, Giants/Cardinals, Jets/Cowboys, Commanders/Broncos, Saints/Panthers, Browns/Steelers.
Jeff Paur is a two-time finalist for FSWA Fantasy Football Writer of the Year and won the FSWA award for Best Fantasy Football Article on the Web in 2011. He also was the most accurate expert in 2012, winning the FSTA Fantasy Football Accuracy Award. If you have any questions for Jeff, email him at jeff@rtsports.com. Follow Jeff on Twitter @jeffpaur.