Waivering: Week 3
Tue Sep 17 8:31am ET
By JEFF PAUR
Sr Fantasy Writer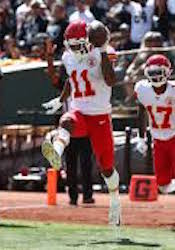 Robinson has career game
Well, waiver wires will be busy this week after several key players, mostly quarterbacks, went down with an injury. Several fantasy teams will be scrambling a bit to fill the quarterback spot, but fear not, there are some quality options available. The position is deep and many players that can help are out there on waivers. Here are the top waiver wire options for Week 3. . . . .
QUARTERBACKS
Jacoby Brissett, Colts. Brissett is yet to throw for more than 200 yards in a game this year but has multiple touchdowns each of his first two games. And he did this against two very good defenses. He had a three-touchdown game last week against the Titans. The yards should start to come for Brissett in more favorable matchups, so he is a player to consider as a top fantasy backup. He has potential in this offense.
Teddy Bridgewater, Saints. Drew Brees is going to miss some time with his injury, leaving Bridgewater as the starter for the Saints. He didn't look great in his first action last week but getting to practice full time as the starter will help in that area. He should get more comfortable, working with the first-team offense. This offense is very good, so Bridgewater could have some big games along the way as the starter.
Andy Dalton, Bengals. Dalton has two straight 300-yard games to start his season and multiple scores each of those games. He has attempted 93 passes in the Bengals suddenly pass-first offense. Dalton looks as good as ever in the new offense and has legit fantasy value as a streaming option for fantasy teams. He remains available in 56 percent of leagues.
Mason Rudolph, Steelers. Ben Roethilsberger is done for the season, needing surgery on his elbow. This leaves Rudolph as the starter for Pittsburgh. Rudolph was 12-of-19 for 112 yards and two touchdowns with an interception in relief of Roethilsberger last week. Rudolph might be a little erratic in his first NFL action, but he is a talented player, getting a chance to start in a good offense. He has the potential for the big game and could help fantasy teams as a streaming play.
Case Keenum, Redskins. Keenum has multiple scores each of his first two games. He has five touchdowns without an interception for the season. The Redskins have trouble running the ball, so this offense is going to be pass first much of the season. This bodes well for Keenum to post some solid numbers. He can help as a streamer for fantasy teams and remains available in 78 percent of leagues.
RUNNING BACKS
Raheem Mostert, 49ers. Mostert got a bigger role in the offense last week because of the injury to Tevin Coleman and took advantage of the increased workload. He had a great showing, rushing 13 times for 83 yards. And he caught three passes for 68 yards and a touchdown, giving him 151 total yards in the game. He is available in 64 percent of leagues. As long as Coleman is out, Mostert has value as a flex play for fantasy teams.
Peyton Barber, Bucs. Barber had a huge workload last week and did pretty well with his chances. He ran 23 times for 82 yards and a touchdown. He continues to have a pretty firm grip on the starter's job, running ahead of Ronald Jones. Barber is owned in a lot of leagues but still available in 33 percent. He is worth grabbing if you need running back depth.
Frank Gore, Bills. Gore continues to start for the Bills and had 21 touches in the game last week. He had 83 total yards and a touchdown. Rookie Devin Singletary continues to impress with his chances, but injured his hamstring last week. He could miss some time or be limited because of the injury. This could give Gore even more work. He could have some fantasy value in the coming weeks and remains available in 66 percent of leagues.
Justin Jackson, Chargers. Jackson has eerily similar numbers the first two games, rushing for 57 yards in Week 1 and 59 yards last week. Jackson isn't getting a huge workload but around double-digit touches and doing well with his work. He is another good depth player and available 28 percent of leagues.
WIDE RECEIVERS
Demarcus Robinson, Chiefs. Robinson will be the top pickup on waivers this week. He was the top benefactor of the Tyreek Hill injury, getting a chance to start in the Chiefs high-powered offense. Robinson had a career game, catching six passes for 172 yards and two touchdowns. He has obvious value as a starter in this offense, so if you need some short-term help at receiver, Robinson is a player to consider grabbing this week.
D.J. Chark, Jaguars. Chark continued his potential breakout season, scoring a touchdown for the second straight games. He had seven receptions on nine targets and has 11 receptions in two games. He is going to get his targets in an offense that isn't afraid to air it out. Chark remains available 57 percent of leagues.
Deebo Samuel, 49ers. Samuel had his best game as a pro in Week 2, catching five passes for 87 yards and a touchdown. You could see why the 49ers are so high on their young receiver. Samuel is an exciting talent that could emerge as the go-to receiver in the 49ers pass-heavy offense. He remains available in 71 percent of leagues.
Cole Beasley, Bills. Beasley has nine receptions in two games and had 83 yard last week. The most important stat for Beasley, though, is his targets. He has been targeted 13 times in two games. Beasley is getting his weekly looks and should be a consistent factor all year in this Bills offense. He has some value in PPR formats, getting his catches.
Terry McLaurin, Redskins. This might be the last week you can grab McLaurin in your leagues. He is out there in 23 percent of leagues. He followed a big opener with another solid game last week, catching fire passes for 62 yards and a touchdown on nine targets. McLaurin is the top receiving option in the Redskins pass-first offense and seems on his way to a very good rookie season.
Nelson Agholor, Eagles. The Eagles are all beat up at receiver, leaving Agholor as maybe top option in the passing game the next few weeks. After the starters went down with injury last week, Agholor led the way at receiver. He had eight receptions for 107 yards and a touchdown on 11 targets. He will still drop some passes but has obvious potential as the No. 1 receiver in this offense.
Devin Smith, Cowboys. The injury to Michael Gallup opens the door for Smith to grab some more playing time the next few weeks. Smith had three receptions for 74 yards and a touchdown in extended work last week. He showed some ability and why he was a second-round pick a few years back. Smith could be a good short-term fix for fantasy teams.
TIGHT ENDS
Greg Olsen, Panthers. Olsen seems back to health and is producing near his old self. He had a 100-yard game last week, catching six passes for 110 yards. He has been targeted 18 times in two games, showing he remains one of Cam Newton's favorite targets in the passing game. Olsen isn't available in a ton of leagues, but out there in 30 percent.
Will Dissly, Seahawks. Dissly had a two-touchdown game last week. He caught five passes for 50 yards and two scores. Dissly showed some potential for big things last year but couldn't stay healthy. If he can stay on the field this year, Dissly could have some big games along the way. He is worth a look as a streaming tight end.
Jeff Paur is a two-time finalist for FSWA Fantasy Football Writer of the Year and won the FSWA award for Best Fantasy Football Article on the Web in 2011. He also was the most accurate expert in 2012, winning the FSTA Fantasy Football Accuracy Award. If you have any questions for Jeff, email him at jeff@rtsports.com. Follow Jeff on Twitter @jeffpaur.